Italian champions Juventus are considering making an offer for Arsenal winger Theo Walcott in the January transfer window.
The 23-year-old has refused to sign a new deal with Arsenal and has now entered the final 12 months of his contract. Walcott is allowed to speak to clubs outside of the Premier League in January and could sign a pre-contract agreement in order to join at the end of the season.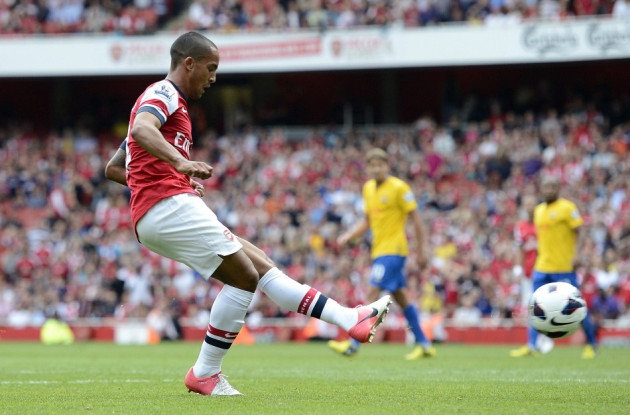 Italian website Calciomercato.com has revealed that Juventus are keen to bolster their options in attack and have identified Walcott as an alternative to Athletic Bilbao forward Fernando Llorente.
The Spain international is believed to be the first choice of manager Antonio Conte, however, should they lose out to another major European club then they would pursue Walcott as an alternative.
Juventus dealt with Arsenal over the summer in order to secure striker Nicklas Bendtner on a one-year loan deal but they have been unhappy with the fitness of the forward.
Conte is unhappy that he was unable to persuade a big name striker to join the club over the summer and is now keen to make sure there is a deal in place for when the January window opens.
The Italian publication believes that Conte is determined to add some youth to his squad and the Arsenal winger would fit the bill.
Since Walcott refused to put pen-to-paper on a new contract with Arsenal he has been forced to watch from the sidelines as he has been limited to a place on the bench.
Gunners boss Arsene Wenger has spoken openly about the situation in recent days and has maintained that the situation should be concluded in the coming months.
"I still hope to sign him and the next two months will be vital because after that, the longer this situation lasts, then the more difficult it is," said Wenger. "Let's hope we can find a solution in the next two months."
Wages are said to be the most important factor, but the fact that Walcott could leave on a free transfer makes it an appealing more for the current Serie A leaders.