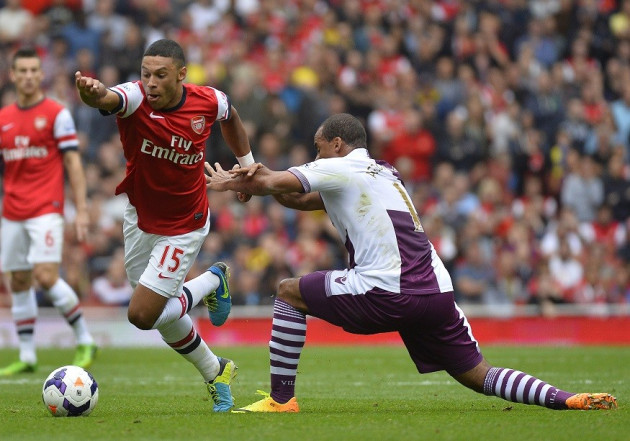 Arsenal manager Arsene Wenger is hopeful Alex Oxlade-Chamberlain will return to competitive action over the busy festive period after dismissing suggestions the winger had suffered a setback in his recovery.
The 20-year-old has not featured for Arsenal since the opening day defeat to Aston Villa after suffering a knee injury and there were reports of a fresh setback that could have kept him out until well into the New Year.
However, Wenger rubbished such reports and is confident that he will be able to make a return to competitive action around Christmas when the Gunners face Chelsea, West Ham and Newcastle in the space of a week.
"Oxlade-Chamberlain has not had a setback," he told reporters during his pre-match press conference. "He is one month away from competition."
There was further good news as it was confirmed that Theo Walcott would be in contention to start against Southampton after missing more than two months of action with an abdominal injury.
Walcott was forced to pull out of the league match with Stoke City on 22 September after aggravating the injury four days earlier in the Champions League tie against Marseille.
"Theo has different qualities to other players and I am very pleased that he's back," stated Wenger. "Strikers who get behind the defenders is a very important quality and Theo has that quality."
Wenger also commented on midfielder Jack Wilshere who has long suffered from injuries to his ankles and has to be closely monitored by the club's medical staff.
The England midfielder's career has been plagued with injuries but Wenger is confident that he can still be a major player for the club for many years to come.
"I have no concern [about his future] and have been told by the medical people there is no long term issue," stated Wenger. "I am told he is still recovering from the ankle inflammation. It is hard [for him], but we have 25 players in the squad as we can deal with that problem. We play 60 games per year and he certainly will have to be managed.
"Unless his pains go completely, then he will be used when needed. If there is an alert on his ankles, we will take advice from the medical department and use him when he can really be used."
The long-serving Arsenal boss also confirmed that the club have entered into talks with defender Per Mertesacker about extending his contract after a string of impressive performances alongside Laurent Koscielny this season.