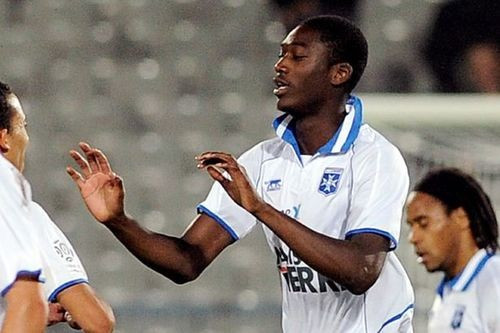 Who is Yaya Sanogo?
A tall and powerful striker who made his name for Auxerre last season in Ligue 2 where he scored nine goals in just 13 appearances, Sanogo represents the new breed of French football. Currently representing France at the Under-20 World Cup in Turkey his physical prowess makes him a handful for any defender despite his relative lack of experience. At 6ft 3" he already has a sizeable frame but he has not yet fully filled out and could add yet more power to his game.
Much like his fellow Under-20 teammates Geoffrey Kondogbia and Paul Pogba, Sanogo is an athletic player who has stood out throughout his youth career. Prolific as he came through the age groups both for club and country, his career was almost ended before it had begun when a double break of his leg in 2010 clouded his future. After seemingly putting the injury behind him he would develop severe problems with his knee and was on the sidelines for the best part of a year.
Having finally fully recovered Sanogo forced his way into the Auxerre first team and made headlines by scoring seven goals in just two matches against Laval and Tours. This superb form has translated onto the international stage where he has scored two goals in three games at the Under-20 World Cup. Much like current Arsenal forward Olivier Giroud he is good with his back to goal as he holds up play well thanks to an impressive first touch - not just with his feet. He links the play well but can also be a threat inside the box as his natural instinct is to find space in the penalty area.
Sanogo on.....why he chose to join Arsenal
"Gilles Grimandi [Arsenal scout] had been to see me many times at Auxerre. And then, one day, we met in Paris at a hotel. I was very impressed. Monsieur Wenger had come to see me directly in Paris. He told me that I would have my chance and reassured me about my injury. He said he had followed me for many seasons. It was this trip that was decisive in my decision. I opted for Arsenal."
Sanogo on....speaking with Arsenal's French contingent
"I was told it was a very good club for me [by Diaby, Coquelin and Sagna] . Many of the guys said I was too young. But I left them to speak. I am 20, I had not played for a year and a half, I had scored some goals and Arsenal had contacted me. Could I really say no? I don't believe so. It will be a magnificent adventure."
Sanogo on....the injuries that almost stopped his career
"I felt there was no point in continuing and putting my health at risk. I couldn't run any more, the doctors didn't know what my problem was and I felt disgusted. I told my mother that I was going to work for the Post Office. But one day I tried to run once more, it went well, and I recovered bit by bit."
Sanogo on....his experience of English football
"When I was small, I went to see Chelsea-Manchester [United] in a Community Shield match. But that's all. I don't know the city. The defenders are fierce but I'm not going with any apprehension. The more time passes and the less I worry [about my knee]. I am just impatient to start in one of the best leagues in the world. It's a dream for me to realise."
Strengths:
Much like two other young strikers who excelled last season in Romelu Lukaku and Christian Benteke, Sanogo has the physical attributes to instantly deal with defenders in the Premier League. He has the ability to score both spectacular goals [like this overhead kick for France] and rather more simple tap-ins thanks to his reading of the game. A seemingly natural finisher who exudes confidence, he will only improve as he receives more regular game time.
Weaknesses:
Injuries have plagued his career to date, playing just 24 first team games for Auxerre in the last four years. The warning signs are there as Sanogo has broken down on a number of occasions and there must be a worry that he will suffer in the same way as Arsenal midfielder Abou Diaby who has struggled to realise his potential because of injury. Despite his size he can be outmuscled in the air and he most work on his left foot which can be wayward.
Will he be a success at Arsenal?
The raw ability is there and there are few better coaches to learn under than Arsene Wenger. The Frenchman got the very best out of Thierry Henry and will hope that he has got his hands on another gem. Sanogo has the tools to cope with life in the Premier League but there will always been question marks over his fitness. Knee injuries have curtailed many a footballers career and there is a concern that the 20 year old will break down once again. If he can continue to grow and avoid injury then there is no reason why he cannot flourish at Arsenal and become a major player for the club over the next decade.
Thanks to Jeremy Smith at French Football Weekly who provided us with background information on Yaya Sanogo. The French striker features in Le50 - the top 50 Under-21 French based players.