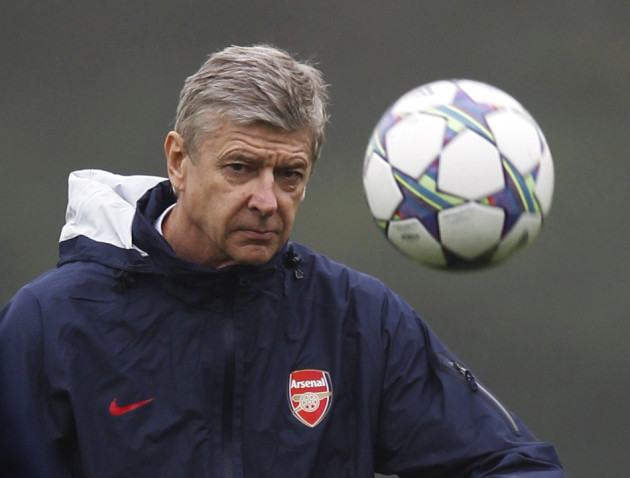 Arsene Wenger has begun the search for an additional left-back after Kieran Gibbs suffered a setback in his recovery from hernia surgery, as Arsenal's defensive crisis mounted.
Wenger is already without all four of his specialist full-backs, and the Frenchman's gloom was exacerbated on Sunday evening with the news that Johan Djourou, who had provided cover at right-back, would be side-lined for three weeks.
The Arsenal manager is expected to have Thomas Vermaelen and Laurent Koscielny available for Wednesday's trip to Aston Villa but Ignasi Miquel, the 19-year-old Spanish centre-half, could be asked to make his Premier League debut at left-back after Gibbs was ruled out of tonight's match.
The England international was in contention to make his Arsenal return against Villa, but the club's medical staff have cautioned Wenger the defender could now miss most of January.
Gibbs was initially ruled out for two weeks when he suffered the injury in October but instead the defender underwent hernia surgery and this latest setback could force Wenger into seeking a loan-deal in the New Year.
"It depends now on Gibbs," Wenger told Arsenal Player. "He sees a specialist again [on Tuesday] and if something happens there that he has had a real setback then possibly, yes.
"It is not a shop; you just take a good opportunity that is on the market when you can. Overall that's what we are doing at the moment. We are starting to look at players if Gibbs is not back.
"On the other hand we have good news on Bacary Sagna because he has started to run again yesterday and today."
Meanwhile, Wenger has challenged his team to bounce back after their eight-game unbeaten run was ended at Manchester City on Sunday.
"I said after the game that we can take a lot of encouragement therefore it's important we respond quickly," Wenger said. "It [the loss] was very difficult to explain. All players had spirit. We are a team who wants to respond quickly now and keep our spirit and determination.
"Then we have a bright future, but it's important that if we keep that spirit and determination we can go from strength to strength. We are not the same team we were two months ago."