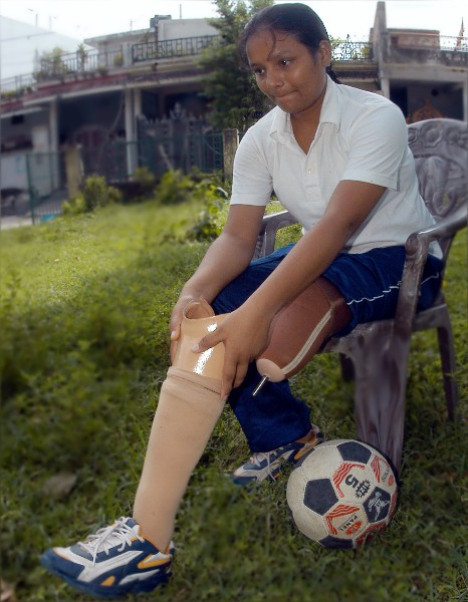 A female amputee has climbed 8,848m to reach the summit of Mount Everest, two years after losing her leg when she was thrown under a moving train.
Arunima Sinha, a former Indian national volleyball player, had her left leg removed below the knee in April 2011 after being thrown from a train outside Delhi during an attempted robbery.
As she lay recovering in hospital, the challenge of climbing everest first took root in her mind.
"At that time everyone was worried for me," said Sinha. "I then realised I had to do something in my life so that people stop looking at me with pity. I read about people scaling Mount Everest. I spoke to my older brother and my coach who encouraged me."
Her mission ahead of her, Sinha approached Bachendri Pal, the first Indian woman to scale Mount Everest, to join the training programme she runs.
Sinha, a member of the Eco Everest Expedition, said she was also able to draw on the inspiration of cricketer Yuvraj Singh, who made his international sporting comeback last year after undergoing chemotherapy for a tumour on his lung.
"He sent me a cheque for 100,000 rupees (£1,180) and also spoke to me when I was recovering. I then got to know later he was diagnosed with cancer," said Sinha.
"When I saw him back in the Indian team I was inspired and said to myself that if he can get back to the team, I could do something with my life."
Sinha previously conquered the 6,622m-high Mount Chamser Kangri in Kashmir as part of her preparation last year.
She reached the summit of Everest in 52 days, starting out from Kathmandu and reaching the peak on what was the 60th anniversary of the first ascent of the mountain, by Edmund Hillary and Tenzing Norgay.
Doctors at the All India Institute of Medical Sciences, where Sinha was treated, said they were deeply moved to learn of her achievement..
"I knew that she wanted to climb the Everest but I am absolutely speechless and happy to hear that she has managed to do it so soon," said Dr M C Misra, one of the doctors who treated her..