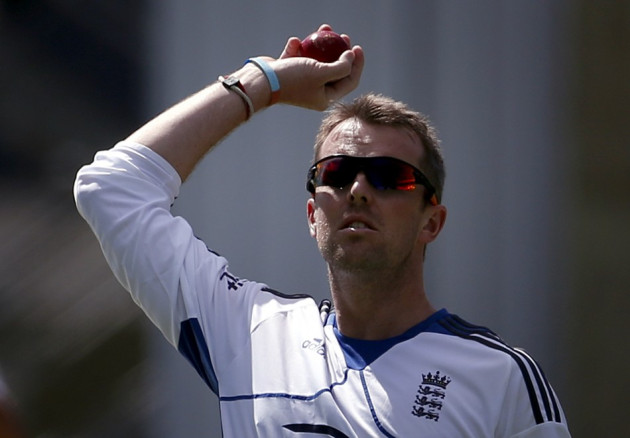 England spinner Graeme Swann feels as though his role in the first Ashes Test will be marginalised as swing and seam bowling will determine who emerges victorious at Trent Bridge.
Alastair Cook's side are the favourites to retain the Ashes after two successive series victories and the England captain will be hoping that Swann can once again play a major role.
The 34 year old has enjoyed huge success against Australia, taking 14 wickets in the 2009 home Ashes series and then 15 wickets two years later as England retained the urn on away soil.
However, he admits that he may need to wait his turn to grab the headlines as he sees the fast bowling unit enjoying much of the success in the first Test which begins on Wednesday in Nottingham.
"It's not a ground I've taken a hatful of wickets on," admitted Swann who has just returned to action after elbow surgery and an arm injury.
"But I'd never taken a wicket at Headingley before playing against New Zealand there last month, so I don't really think 'wow, I've not done well here before'. I like bowling here though, but I accept there is not much help in the pitch for a spin bowler.
"I think I took my first Test wicket here last year. I played a Test match here against Pakistan and I bowled two overs in the game - because it swung so dangerously.
"The India game, I remember going at about 10-an-over. They were so roughed up by the bouncer at the other end, they were just eyeing me up and hitting me everywhere."
Despite the recent dry spell it seems Cook will rely heavily on his front line duo of James Anderson and Stuart Broad but there could be the need for a Plan B involving Swann.
Asked whether he thought the pitch could begin to turn later in the Test, Swann added: "I'm not sure it will. I know Trent Bridge like the back of my hand, and it could be dry for four months and it wouldn't be a turning pitch. Having said that, most teams don't have left-armers.
"So if Mitchell Starc and whoever else they play can kick up a bit of dust, that might make it a bit more enjoyable to bowl spin."