Shia Muslims are gathering at shrines and mosques to mark the day of Ashura, which commemorates the death of the Prophet Muhammad's grandson Imam Hussein at the battle of Karbala, now in southern Iraq, in AD 680. His martyrdom is considered a defining event in the schism between Sunni and Shia Muslims.
Many devotees beat their heads and chests or flagellate themselves with chains and knives, and gash their heads with swords to show their grief and echo the suffering of Imam Hussein. Warning: Some of these images are quite graphic and may cause distress.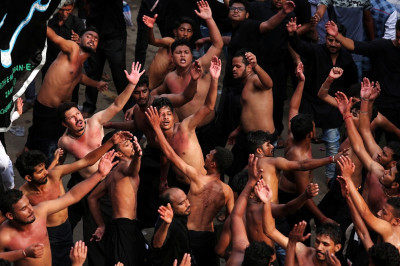 The mourning period of Muharram comes at a particularly turbulent time in the Middle East, which has seen an increase in sectarian violence alongside the spread of the Islamic State and other extremist Sunni groups, who believe Shia Muslims are apostates deserving death. Shia Muslims, who make up nearly 15 per cent of the Islamic world, mourn for a month as part of the festival.
Suicide bombers struck near a large Shia mosque in Kabul on Friday (29 September), killing at least four people. The blast hit the Qala-e Fatehullah area of the city, near the Hussainya mosque, and occurred as security forces were on alert for possible attacks during Ashura. The local affiliate of Islamic State has claimed several attacks on Shia targets in Kabul in recent years and the government has allowed the community to place armed guards near mosques.
Ashura marks the start of a 40-day mourning period that culminates in Arbaeen – where millions of Shia Muslims gather in Iraq's holy city of Karbala in the world's biggest annual pilgrimage. Iraqi state-run media said more than 22 million pilgrims visited Karbala in 2016, setting a record for the annual pilgrimage, though that figure could not be independently verified.