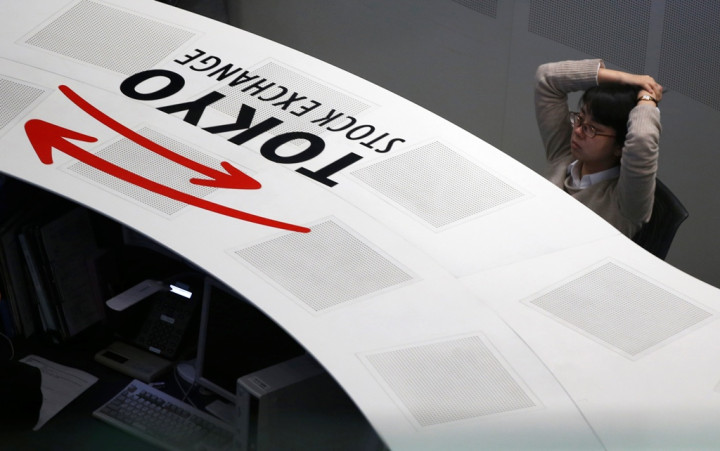 Asian stocks outside Australia slipped on 1 October as continued civil unrest in Hong Kong and a downbeat handover from Wall Street hit investor confidence.
Mumbai's BSE Sensex was trading 0.12%, or 33.22 points, lower to 26,597.29.
The Japanese Nikkei finished 0.56%, or 91.27 points, lower at 16082.25.
South Korea's Kospi closed 1.41%, or 28.55 points, lower at 1991.54.
Australia's S&P/ASX ended 0.78%, or 41.30 points, higher at 5334.10.
Markets in Hong Kong and in mainland China were closed for the National Day holidays and will resume trade on 3 October and 7 October respectively.
Investors on Wednesday continued tracking developments in Hong Kong, where mass protests, demanding political reform in the semi-autonomous city-state, entered its fifth day.
Hong Kong, though part of China, maintains an open capital market and separate legal system based on English law under China's "one country two systems" policy.
While events in Hong Kong weighed on investor sentiment, data from a Chinese manufacturing survey provided some relief, helping arrest the decline in stock prices.
The Chinese government's factory Purchasing Managers' Index (PMI) was unchanged at 51.1 in September, a tad above market expectations.
Chen Zhongtao, an official at the China Federation of Logistics and Purchasing, which helps compile the official PMI data, said in a statement: "The [Chinese] economy still faces a degree of downward pressure."
PNC's senior international economist Bill Adams said in a 29 September note to clients: "[The Hong Kong ] protests are not changing our forecast for Chinese growth in 2014. The protests will likely reduce luxury retail sales if they continue through Golden Week, but the broader economic impact on Hong Kong will likely be limited (Golden Week is the week-long holiday in which Mainland tourists typically swarm Hong Kong to shop).
"I expect Hong Kong's financial sector activity to be only modestly affected by the protests, since many workers can continue working remotely, and will be able to make up for delayed transactions later in the year."
Capital Economics said in a 29 September note: "With thousands of pro-democracy protestors blockading the streets of Hong Kong's main business district, the territory's political crisis is showing no sign of dying down. The economy, which is already very weak, could easily be pushed into recession if the protests drag on. The impasse also threatens Hong Kong's reputation as an international financial centre."