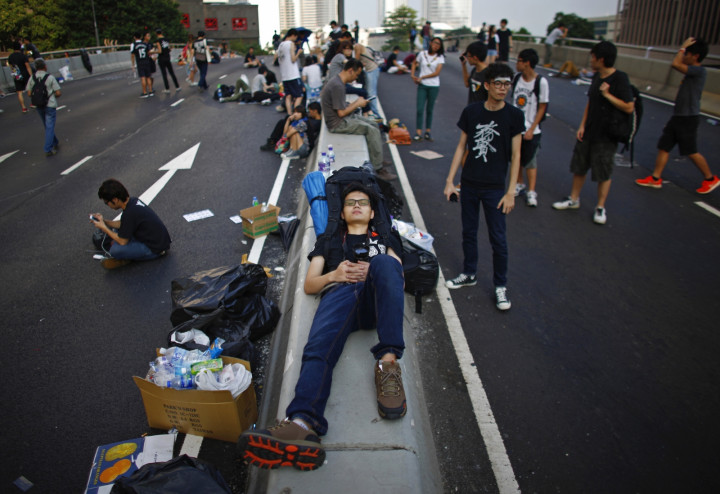 Pro-democracy protesters in Hong Kong calling for the resignation of Chief Executive Leung Chun-ying are standing their ground amid rising tensions which are expected to escalate on the Chinese National Day.
Defiant protesters are pressing ahead with their civil disobedience movement against the Beijing-backed authority occupying the streets, which are otherwise choked with traffic.
The Occupy Central protesters are also stockpiling resources including food supplies, face masks and tents suggesting they are planning a long struggle.
On the national holiday on Wednesday, 1 October, rallies are expected to swell as more protesters are set to join.
Students and the Occupy Central protesters are demanding political reforms in the semi-autonomous region and seek to do away with China's "one country, two systems" arrangement in Hong Kong.
China has refused to usher in the reforms and the developments about the latest protests are being completely blacked out in the mainland.
"Many powerful people from the mainland will come to Hong Kong. The Hong Kong government won't want them to see this, so the police must do something," a student protester Sui-ying Cheng told Reuters.
"We are not scared. We will stay here tonight. Tonight is the most important."
Leung has renewed the government's call for the protesters to disperse and end their campaign immediately.
"Occupy Central founders had said repeatedly that if the movement is getting out of control, they would call for it to stop. I'm now asking them to fulfil the promise they made to society, and stop this campaign immediately," Leung told a press conference.
Shortly after Leung's remarks, the Occupy Central organisers reiterated their demands asking the chief executive to step down.
"If Leung Chun-ying announces his resignation, this occupation will be at least temporarily stopped in a short period of time, and we will decide on the next move. This would be a very important signal, then at least we know the government has changed their attitude and wants to solve this crisis," a co-founder of the pro-democracy group, Chan Kin-man, told reporters.