Hong Kong Protests: China Warns International Community Not To 'Interfere'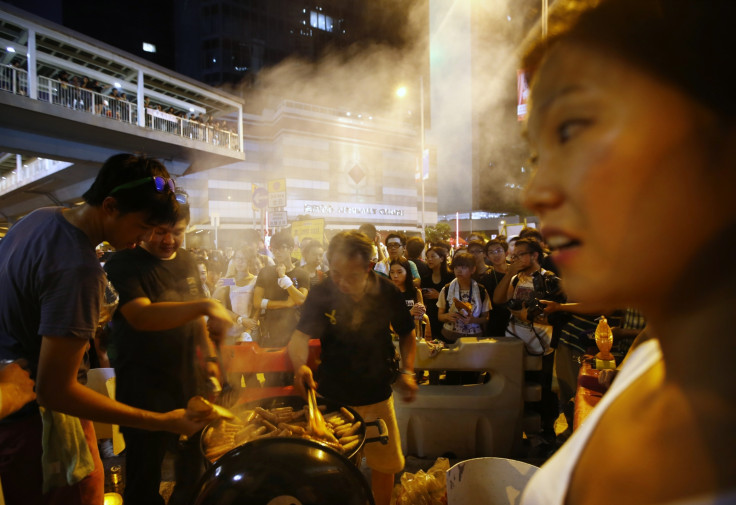 Thousands of pro-democracy protestors have weathered tear gas and baton charges to stay on the streets of Hong Kong in a tense standoff with police.
The UK Foreign Office told the BBC it was "concerned" by the heavy response to the protests in the former British colony. However, China shot back with a warning to not "interfere" in the current tense situation.
Chinese Foreign Ministry spokesman Hua Chunying said: "Hong Kong is China's Hong Kong. Hong Kong is purely our internal affair.
"We are resolutely opposed to any foreign country using any method to interfere in China's internal affairs."
Organisers say that as many as 80,000 people have taken to the streets since Friday.
Demonstrator Rick Chan said: "I came last night and saw police fire many rounds of tear gas at the crowd, who were mostly young students and even included some old people."
Photo-sharing site Instagram has also reportedly been blocked in China, suggesting authorities could be worried about inspiring similar protests on the mainland.
Many photos of the demo have been hashtagged "Occupy Central".
The phrase was blocked on Sunday on Weibo, China's version of Twitter. Searches for "Occupy Central" and "Hong Kong protest" on China's most popular microblog, brought up non-protest photos and links to state media reports. Searches for "Hong Kong" brought up a range of shopping tips and restaurant reviews.
Occupy Central co-organiser Dr Chan Kin-man urged "fearless" protesters to remain on the streets until their calls were heeded.
In a statement, the group called on Hong Kong's Chief Executive, Leung Chun-ying, to resign, saying his "non-response to the people's demands has driven Hong Kong into a crisis of disorder".
The protests have affected Hong Kong's commercial hub, forcing bus routes to be cancelled or diverted and banks to close.
Clashes also broke out in Taiwan when dozens of students gathered in the lobby of the Hong Kong Trade Office in Taipei in support of the democracy protests.
China has warned other countries not to support the "illegal rallies".
The protesters - a mix of students and members of the Occupy Central civil disobedience movement – are calling the next major election in 2017 a "fake democracy".
Although central authorities say they will grant the region's seven million people the ability to choose their next top official, the framework will only allow two or three pro-Beijing candidates to run.
© Copyright IBTimes 2023. All rights reserved.