China has blocked the photo-sharing app Instagram as pro-democracy protests in Hong Kong spread despite police's attempt to disperse the crowd.
The social networking app, owned by US-based Facebook, was no longer loading new posts from Beijing, Inner Mongolia, Heilongjiang and Yunnan provinces according to Internet censorship organisations such as Blocked in China.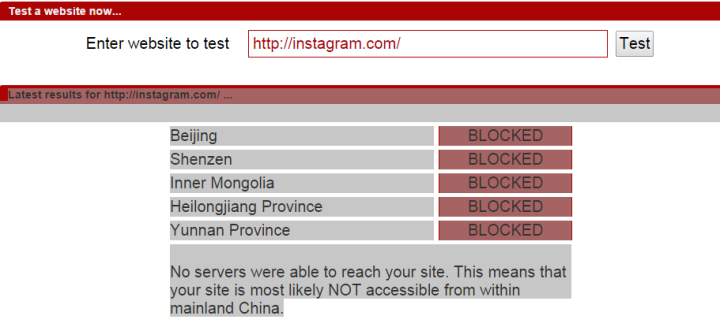 Instagram said that they are aware of reports and looking into it. Pictures of protesters carrying umbrellas, teargas fired by police and students wearing masks under the hashtags #occupycentral have surpassed the 7,000 shares on the social media app.
Police and pro-democracy protesters clashed on Sunday with police using pepper spray and teargas to disperse them. Students took to the street to challenge Beijing's decision to reject open nominations for candidates under proposed guidelines for first-ever elections for Hong Kong's leader to be taken on 2017. China, who called the protests illegal and supported the Hong Kong's government crackdown, wants to continue hand-picking the candidates from a pro-Beijing elite.
China has called the protests illegal and supported the Hong Kong government's crackdown.
Search results for "Hong Kong teargas" have been censored on China's search engine Baidu, the largest in the country. Popular social network Sina Weibo also blocked searches for "teargas" while "Ins", an abbreviation for Instagram, was among the top trending topic.
According to the Wall Street Journal, who cited Fu King-wa an assistant professor at the University of Hong Kong's Journalism and Media Center, some 152 out of every 10,000 Weibo posts were deleted on Sunday.
News websites in China reported on the Instagram blackout saying the reason was unknown.