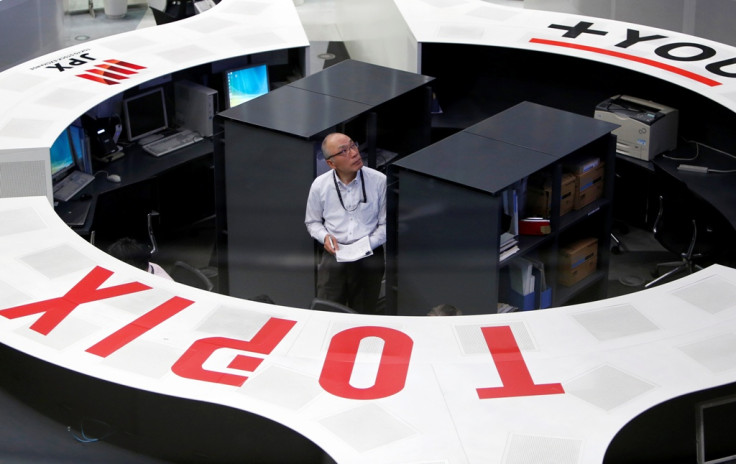 Asian markets outside China traded higher on 29 May amid fears that the Chinese markets, the world's best performing equity markets, are at the threshold of a major correction.
The Japanese Nikkei finished 0.06%, or 11.69 points, higher at 20,563.15.
The Shanghai Composite finished 0.18%, or 8.52 points, lower at 4,611.74.
Hong Kong's Hang Seng finished 0.11%, or 30.12 points, lower at 27,424.19.
Australia's S&P/ASX 200 finished 1.12%, or 64.10 points, higher at 5,777.20.
South Korea's Kospi Composite finished 0.19%, or 3.91 points, higher at 2,114.80.
India's S&P BSE Sensex finished 1.17%, or 321.73 points, higher at 27,828.44.
Market movements
The Nikkei hit a fresh 15-year high on 29 May and has gained some 17.89% so far this year, buoyed by hopes for better shareholder returns.
IG market strategist Stan Shamu said in a note to clients: "Japan has been the quiet achiever in Asia with the Nikkei remaining at 15-year highs. The recent gains in the greenback have been the pinnacle of the rally... while data in Japan also showed signs of bottoming and clearly the weaker yen is starting to work for the economy."
Government data released ahead of the market open showed that Japan's consumer price index (CPI) rose 0.3% year-on-year in April, a tad higher than forecasts for a 0.2% rise from a Reuters poll, but markedly lower than the 2.2% increase in March.
But household spending dropped 1.3% year-on-year in April, disappointing expectations for a 3.1% increase from a Reuters poll.
The Shanghai Composite has gained some 42.63% this year while the Hang Seng has gained some 16.62%.
David Dai, Shanghai-based investment director at Nanhai Fund Management told Reuters: "The correction is not yet over. [28 May's] slump was too rapid, so many investors didn't have time to flee. Many are still seeking an exit. The market has risen too much, and too fast, so the confluence of bad news is causing panic selling."
Capital Economics said in a note: "With valuations divorced from economic fundamentals, the heightened volatility we have seen is likely to continue."
The ASX has gained 6.86% this year.
Patersons Securities said in a note: "[The market rose] despite no major stock-specific catalysts. Perhaps the yield story came into sharper focus [after] this week's soft data and a lower Aussie dollar has enticed some offshore-domiciled investors back into our equity market."
The Kospi has gained some 10.29% this year.
Government data released on 29 May showed that South Korea's industrial output fell by a seasonally adjusted 1.2% in April, after a 0.3% drop in March.
Elsewhere, the Sensex has gained some 1.17% this year.
Government data released on Friday showed that India's economy -- which expanded 7.5% in the quarter ended March -- grew faster than China's in the January-March period.
Capital Economics said in a note: "At face value, today's GDP data for Q1 suggest that India is the fastest-growing major economy in the world. But the GDP data remain wildly inconsistent with numerous other indicators that point to continued slack in the economy."
Company stocks
In Tokyo, Yahoo Japan surged 11.65% on the back of a Nikkei report that the firm will partner e-commerce giant Alibaba Group Holding to expand into the Chinese market.
In Shanghai, Poly Real Estate lost 2.03%
In Hong Kong, advisory services provider Roma Group surged 16.15% while investment holding firm GreaterChina Professional Services shot up 9.46%.
In Sydney, drug maker Alchemia plummeted 51.81% following an update on its quarterly profit. The firm's stock was on a trading halt since 22 May pending an announcement regarding its profit-share on the sales of Fondaparinux, an anti-coagulant generic drug sold by India's Dr.Reddy's Laboratories.
Miner BC Iron fell 7.14%.
National Australia Bank finished 2.63% higher.
In Seoul, semiconductor maker SK Hynix added 2.92% following an upgrade in its credit rating.
The country's three main telecom operators were stung by news that the government plans to select a fourth telecom carrier within the year.
Telecom operator SK Telecom lost 3.33%. Rivals KT Corporation and LG Uplus lost 2.53% and 0.53% respectively following news that Seoul proposes to select a fourth telecom carrier this year.
In Mumbai, JLR-parent Tata Motors shed 0.40% while rivals Mahindra & Mahindra and Maruti Suzuki added 4.89% and 2.26%.