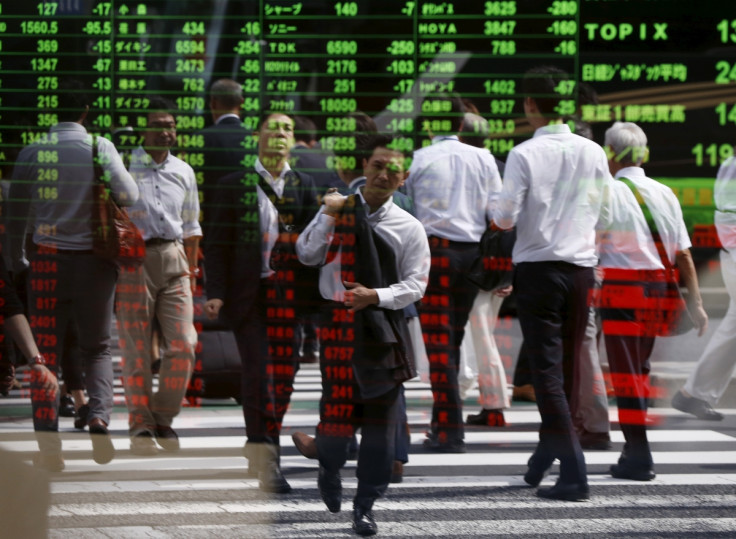 Asian stock markets saw a mixed response on Thursday (22 October) ahead of the European Central Bank's (ECB) policy meeting scheduled later in the day. Investors are concerned if the central bank would expand its quantitative easing that is a €60bn (£44bn, $68bn) a month bond-buying programme.
The Shanghai Composite Index which fell drastically on Wednesday saw a bounce back and was up 1.45% at 3,368.74. After China's benchmark index fell by more than 3% on Wednesday, its biggest daily fall in five weeks, People's Bank of China (PBoC) announced its decision to add liquidity to the market, which according to a few analysts is the reason for today's (22 October) pullback rally. Smaller stocks including a handful of start-ups in Shenzhen too helped in China's market rebound.
PBoC, the central bank of the world's second largest economy, announced that it inserted CNY105.5bn (£10.7bn, €14.7bn, $16.6bn) into 11 financial institutions by way of medium-term lending facilities which would encourage lending to the agricultural sector and small businesses.
However, Jacky Zhang, an analyst with BOC International said, "The bounce back is only because of the selling yesterday and we think the benchmark will have a difficult time climbing above 3500."
An interest of CNY 2bn ($315m) due by Sinosteel Co this week was postponed by the state-owned Chinese steel trader, indicating that Chinese companies are struggling from heavy debt loads.
Chris Weston, a market strategist at brokerage IG said, "If we start seeing the equity market acting violently negative again, you may well see some risky assets...come back under pressure."
In other Asian markets, Hong Kong's Hang Seng dropped 0.65% at 22,841.96, South Korea's KOSPI was down 0.98% to 2023 and Australia's S&P/ASX 200 was up 0.30% at 5263.8. While India's BSE Sensex did not trade due to a state holiday, Japan's Nikkei 225 was down 0.64% at 18,435.87.
US WTI Crude oil was down 2.41% at $45.20 a barrel and Brent was trading down by 1.80% at $47.85 a barrel. Worries over the US increasing its crude stockpiles led to oil prices sliding for a fourth-straight session today. US crude oil inventories increased eight million barrels last week according to the government-run Energy Information Administration (EIA).