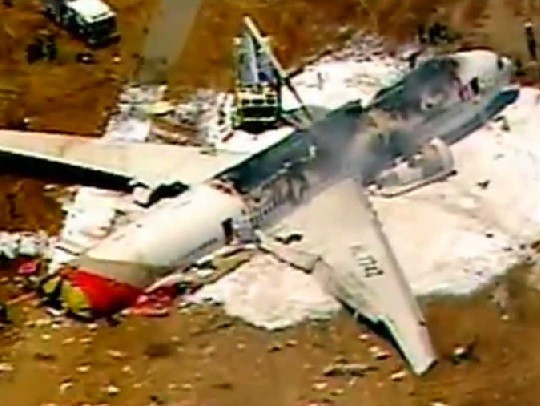 The airline whose jet crashed and burned at San Francisco airport with the loss of three lives is to sue a TV network for broadcasting a series of racially offensive spoof names it believed were members of the flight crew.
The TV network had clearly failed to check its facts, and the names - "Captain Sum Ting Wong", "Wi Tu Low", "Ho Lee Fuk" and "Bang Ding Ow" - were exposed as a prank.
South Korea's Asiana Airlines said that KTVU-TV, an affiliate of Rupert Murdoch's Fox, had damaged its reputation with its racially discriminatory report and it would take legal action, said spokeswoman Lee Hyomin.
Asiana Flight 214 crash-landed at San Francisco international airport, leaving nearly 200 people injured. In its news report, KTVU presenter Tori Cambell read out a list of four alleged individuals, identifying them as pilots on the stricken aircraft.
The item was accompanied by a graphic with the phony names listed alongside a photo of the burned-out wreckage of the plane on the runway.
It is not clear how the list came to have been put together, or cleared for broadcast by KTVU producers. However, the station does not dispute that it was at fault.
The presenter apologisedafter a commercial break.
The National Transportation Safety Board said that one of its interns had confirmed the names when contacted by KTVU. The intern had acted mistakenly but in good faith, the NTSB said.
"In response to an inquiry from a media outlet, a summer intern acted outside the scope of his authority when he erroneously confirmed the names of the flight crew on the aircraft," the NTSB said. "Appropriate actions" would be taken, it added.
The intern no longer worked for the NTSB, an unnamed official told CNN.
However, Asiana said it would not sue the NTSB as it was the TV station, not the federal agency, that had damaged its reputation.
Video of the report spread rapidly on the internet. It has now been viewed almost eight million times and KTUV has been ridiculed.
The station issued a further apology. "We made several mistakes when we received this information. First, we never read the names out loud [before broadcast], phonetically sounding them out," it said.
"Then, during our phone call to the NTSB where the person confirmed the spellings of the names, we never asked that person to give us their position with the agency."
Watch the video of the news report