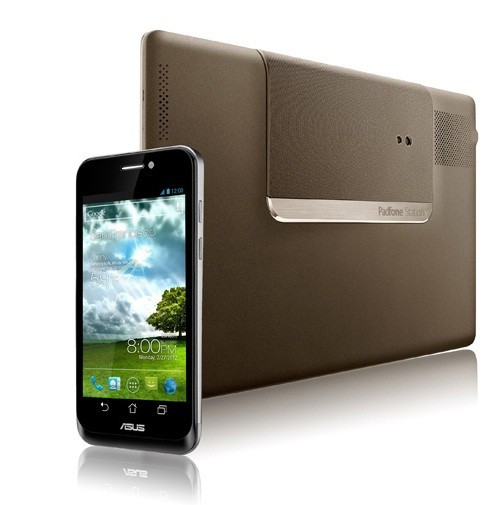 ASUS unveiled its revolutionary PadFone at this year's Mobile World Congress (MWC) event. The device is reportedly a three-in-one - combining a smartphone, a tablet and a notebook - when paired with a PadFone Station or PadFone Station Dock. The device comes with the PadFone Stylus Headset and a Bluetooth Stylus Pen and is expected to hit most European markets in May.
Meanwhile, Chinese mobile manufacturer Huawei unveiled what it claimed to be the fastest quad-core smartphone, the Huawei Ascend D, along with two other Ascend D models, the Ascend D quad Xl and the Ascend D1 at the same event. The phones should be released across China, Australia, Europe, Asia-Pacific, North and South America and the Middle East in the second quarter of this year.
Display: The PadFone features a 4.3in Super AMOLED capacitive touchscreen, with a resolution of 540x960 pixels. The display is protected by scratch-resistant Corning Gorilla Glass with HCLR Film.
The D quad will feature a 4.5-inch IPS LCD capacitive touch-screen with a resolution of 1280x720 pixels. Huawei claims the D quad is an entertainment dynamo with a powerful 32-bit true colour graphic processor.
Dimensions: ASUS' PadFone measures 128x65.4x9.2mm and weighs 129g with the battery. The Ascend D quad measures 5.08x2.25x0.35 inches and weighs 131g.
Operating System: Both smartphones will run on Android 4.0 (Ice Cream Sandwich).
Processor: The Huawei Ascend D quad is powered by Huawei's K3V2 1.2GHz/1.5GHz processor. The PadFone is powered by Qualcomm's Snapdragon S4 8260A dual-core processor, which was clocked at 1.5GHz. Both devices have 1GB of RAM.
Camera: Huawei's Ascend D has a rear camera of eight megapixels with dual LED auto-focus and can shoot video at 1080p. It also carries a secondary front-facing camera with a resolution of 1.3 megapixels. ASUS' PadFone also sports an eight megapixel camera and a 0.3 megapixel front-facing unit.
Connectivity: The Huawei Ascend D quad offers 3G connectivity and it supports Wi-Fi 802.11 n/g/b and Bluetooth version 3.0+HS. ASUS' PadFone supports WLAN 802.11 b/g/n and Bluetooth version 4.0.
Storage: The Huawei Ascend D quad has 8GB of internal memory space, while the PadFone comes with two options - 16/32GB. Both devices support microSD card slots.
Battery: The Huawei Ascend D quad has a standard battery of 1800 mAh which can last for up to a couple of days, under normal usage patterns. ASUS's PadFone is powered by a 1520mAh Li-ion battery.