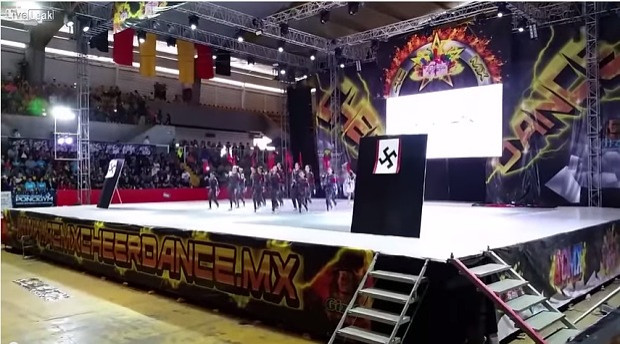 A strange cheer-dance performance featuring a German chorus music, two Heil Hitler salutes, red armbands and a placard sporting a swastika unnerved a Mexican audience at a local competition.
The performance by about 24 girls and a boy aged 10 to 16 was an entry in the Cheerdance ACMX competition in Guadalajara last month. The performers wore red armbands, military-style dance outfits and carried red flags. One segment of the dancers, in white, apparently represented Nazi victims. At the end of the performance everyone was covered in a giant red-and-black flag marked with a large swastika.
Criticism rose after video of the dance was posted on social media sites.
One teen told Agencia EFE news: "It's incredible that the directors of the association are so tremendously stupid." Another said: "Hey, it's just a dance."
Event organiser Enrique Casas said dance choices were completely up to the 192 competing teams. In the controversial performance, dancers were simply acting out a theatrical story, he explained.
He said the choreography was not meant to offend, but that any art form "can cause a certain discomfort ... and can be surprising." Casas said he aims to protect the identity of the young people involved because the whole issue "is being demonised."
The comments on social media sites "have been a little aggressive. They've have gone beyond freedom of expression ... and have included direct insults against the girls," he told AP.
Some limitations might be put on selections next time around to "avoid hurting people's feelings," he added.
More about Nazis
Jewish and anti-fascist groups join together to stand against neo-Nazi rally in Golders Green
US paid $20 million in social security to alleged Nazi criminals
German police recover Nazi statues
Oskar Gröning Nazi trial: Will mysterious letter condemn the 'Accountant of Auschwitz'?
Hitler death anniversary: Nazi terror still stalks Germany as far-right sleeper cells lie in wait
Hitler's death 70th anniversary: Who let Nazi war criminals escape to South America after WW2?