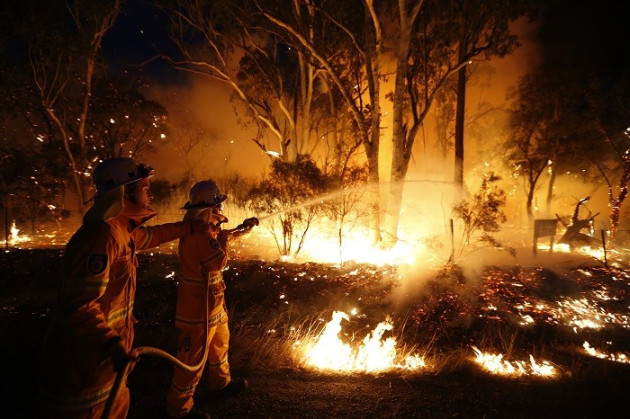 The huge bush fires currently ravaging the Australian state of New South Wales have been linked to a defence training exercise.
The Australian military was forced to admit on Saturday that it might have been responsible for Tuesday's blaze in the town of Lithgow in the Blue Mountains after carrying out explosive ordnance training at its Marangaroo Training Area on the same day.
The massive fire has so far destroyed more than 30,000 hectares including 200 homes, and is still burning between Lithgow and Bilpin.
One man has died - reports say of a heart attack - while trying to protect his home.
The Australian Defence Force said it will work with the NSW Rural Fire Service to investigate both the incident and its own procedures, once the fire is extinguished.
In a statement, it said: "The primary concern at this stage is for the safety of the communities in the vicinity of the fire, then the ongoing investigation which will review both the incident and defence procedures.
"Our thoughts are with those who have lost property or whose property is threatened by these devastating fires."
The bushfire has since been upgraded to emergency status with fire crews being redirected from back burning operations to protect a further 100 homes in the region.
Rural Fire Service Deputy Commissioner Rob Rogers told the Sydney Morning Herald: "There's about 20 properties in the community of Bell which are under threat at the moment.
"This fire is by no means contained. It's got absolutely kilometres and kilometres of fire front."
He stressed it was too late for people in Berambing and Bilpin to leave, as the roads were too dangerous to use.
"The message is to shelter in place and not to leave," Rogers said.
Evacuation centres have now opened at the Lithgow Workers Club and Springwood Sports Centre.
Meanwhile 24 patients and 17 staff have evacuated Springwood Hospital and are on their way to Nepean Private Hospital.
According to the BBC, this year's fires have come unusually early after unseasonally hot weather, and many now fear a long and dangerous summer.
Watch one local man's video of the New South Wales bush fire on YouTube, below: