Sydney Thunder general manager Nick Cummins has claimed that Shane Watson will be Michael Hussey's "natural successor" for the Big Bash League franchise. The all-rounder was added to the squad for the recently-concluded season after he signed a three-year deal with the Thunder last May.
Hussey was leading the Sydney-based outfit and played his last professional match on Australian soil in the BBL final, where they defeated Melbourne Stars to win their first BBL on 24 January. Cummins stressed that his side has started the process of finding a replacement for the 40-year-old in the batting division, but admitted that his contribution with the bat will be difficult to replace.
"We started planning for Michael's succession last year with the signing of Shane Watson, we see him as the natural successor as Thunder's leader," Cummins told IBTimes UK.
"There's very little to say about Mike that hasn't been said already. His cricketing feats are only exceeded by the level of integrity and personal values that he brings to the club. He has been such a delight to work with over the past three years, always positive, always proactive and so engaged in the journey we had undertaken.
"Mike's [Hussey] runs will be harder to replace, but we do have a hit list of international players we'll be approaching in the next week or so. Mike will actually be leading those conversations, so he'll have a big say as to who will be the backbone of our middle order.
"We'll have a few other retirements after this season, but they are all things that we have foreseen and have been planning for a while. It's my role to always be thinking about BBL06 and beyond while the captain and coach think about winning the next game," he added.
Despite Hussey announcing his decision to not continue to play in his homeland, the franchise's general manager is working on creating a position for the former Australian all-rounder. Cummins wants him to be involved with the team for the upcoming season.
"He'll be greatly missed as our captain, but we are in the process of creating a role that will allow him to help shape the Thunder for years to come," the Sydney Thunder general manager explained.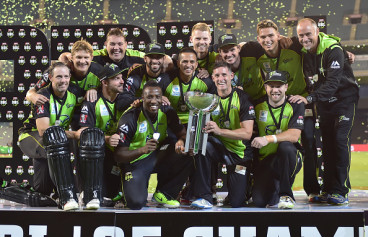 After finishing last in the first three seasons of the BBL, Sydney Thunder appointed Paddy Upton as their coach for the previous season. In his first campaign, they finished seventh, but Upton helped them lift the trophy in January 2015.
Cummins gave an insight on Upton's coaching techniques and how he instilled a sense of responsibility among the players in the squad. The general manager went to suggest that Sydney Thunder's latest success did not come as a surprise as he saw signs of improvement in the fourth season of the BBL.
"Paddy brings a level of unity and personal ownership amongst the playing group that is rarely seen in professional sports. He is not a 'my way or the highway' type of coach, instead choosing to imbue a level of responsibility amongst the players to drive team strategy and team selection," Cummins explained.
"The end result is a group that is fully engaged in the team's success and they have so much personal ownership over the key decisions. Paddy brings a sense of calm and belief to the dressing room, when we won three in a row, or when we lost four in a row, the morale in the group was exactly the same which allowed us to keep our momentum going right to the final."
"Obviously we are delighted that we won both the BBL and WBBL titles, it's a culmination of a lot of hard work by a lot of very dedicated people. I actually believed we had a good season in BBL04 and weren't that far off being title contenders, but just didn't have the results to prove it. So it's probably come more of a surprise to others than it did to the club," he concluded.