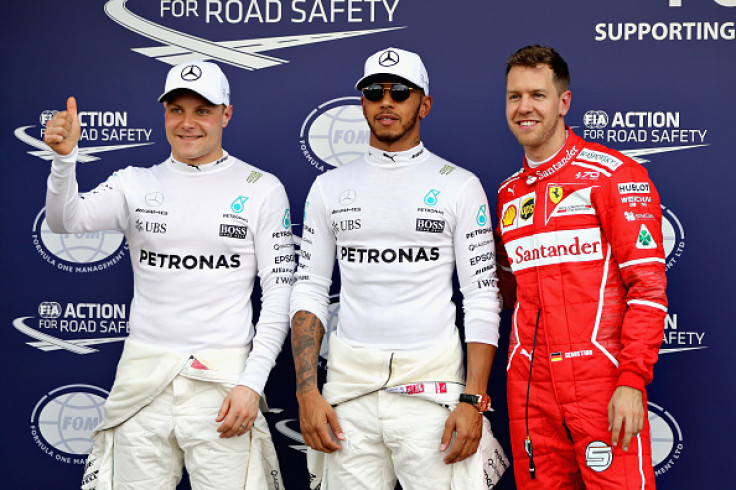 Lewis Hamilton began the 2017 Formula One season similar to 2016 when he grabbed his fourth consecutive pole position at the Australian Grand Prix. The only difference this time around being that he was pushed to the limit by Sebastian Vettel, who took second place just over two tenths behind.
Valtteri Bottas made a strong start to his Mercedes campaign by finishing third and was just over two hundredths of a second behind the Ferrari driver. Kimi Raikkonen enforced pre-season talks about the Italian team being the main challengers with fourth place.
The two teams were in a league of their own, as no other team, including Red Bull Racing were able to get close to them during the previous three sessions. "It has been a fantastic weekend so far," Hamilton said during the post-qualifying press conference.
Home favourite Daniel Ricciardo will start in tenth place after a crash in the final session of qualifying ensured that he did not set a competitive lap time. The Australian lost his rear end coming into Turn 14 and went sliding into the gravel trap before hitting the barricade.
Romain Grosjean was the best of the midfield runners and a quick lap put the Haas car in sixth place ahead of the more fancied Williams, with Felipe Massa four tenths behind in seventh place. Both teams had just one car in the top ten after Q1 as Kevin Magnussen and Lance Stroll to the 18th and 19th spot, respectively.
Toro Rosso duo Carlos Sainz and Daniil Kvyat showed why the Italian team are touted as the dark horses in the race for supremacy among the midfield runners by qualifying in eighth and ninth positions.
Fernando Alonso said it was the best lap he could have done after putting the McLaren-Honda fraught with problems in 12th place. It is a far cry from testing when they were touted to bring up the rear with the Sauber team.
Antonio Giovinazzi replaced Pascal Wehrlein at Sauber after the German pulled out due to a back injury and becomes the second debutant at the opening race along side Williams' Stroll. The Italian gave a good account of himself and barring a minor mistake in his final run, he would have made it into Q2 at the expense of his more experienced teammate Marcus Ericsson.
The race start will be key on Sunday (26 March) with overtaking opportunities at a minimum in Albert Park. The Ferrari's were the best starters in 2016, but Bottas revealed during the press conference that Mercedes had become stronger in that department.
There was a threat of rain during the qualifying session, but it stayed away from the track and weather forecast suggests that it will be a dry on race day. It is likely to be a one stop race with drivers suffering minimal tyre degradation during their race simulation runs during Friday practice.