"It's been a really incredible, really cool year," says Andrew Taylor, the man who has eaten only potatoes in 2016.
Now just days away from completing the challenge of a 12-month spud-only diet, the 36-year-old spoke to IBTimes UK about weight loss, depression and what he's going to eat on 1 January 2017.
Taylor weighed 151.7kg at the end of 2015 and had decided enough was enough. "I was clinically depressed and addicted to food," he said. He reasoned that an alcoholic needs to entirely quit alcohol so he should entirely quit eating but, of course, that isn't possible. "So I decided to find one food that I could eat and be healthy and quit everything else."
After considerable research the Australian settled on potatoes because they provide a balanced source of nutrition. And he has never looked back.
"I've not cheated at all, I've stuck with eating potatoes the whole way through and it's worked well," says Taylor, who now weighs less than 100kg. "I've kept toppings and flavours very minimal. I might have a big plate of potatoes with a very small amount of tomato sauce or barbeque sauce, but most of the time I eat my potatoes plain with nothing on them. Mainly I've been doing a lot of boiled potatoes and eating them like an apple."
The 52kg he has lost have also cured his depression. "That's all gone," he said. "I've only got good things to say about it [the diet]. I'm healthier and fitter than I've ever been."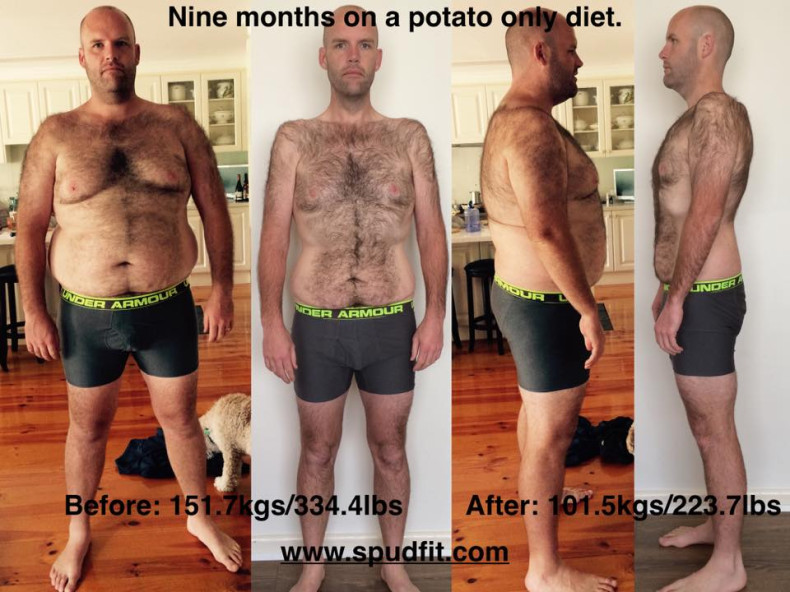 Taylor's wife has been fully on board with his regimental food program. He said: "She loves it, she's been really supportive and happy for me to do it. She's gone about her business and eats what she wants to eat but she's definitely eating more potatoes than normal. She's lost a little bit of weight too but she didn't have much weight to lose – she wasn't overweight like I was."
Taylor has scheduled a celebratory breakfast with family and friends for New Year's morning. But he's not overly excited about the prospect of eating something other than potatoes. "There's not really anything that I'm drawn to or anything that jumps out at me – I'm just happy with potatoes... I've told the caterers to surprise me with something so we'll see what happens."
He told IBTimes UK that he intends to stick largely to the diet he has rebuilt his life around next year. While he may have the odd treat, he will mainly be eating potatoes "mashed, boiled and baked".
He is also retiring from his job as a schoolteacher to focus on spreading the good health message to others. He said: "I want to spend my time getting others to be healthy like I have this year so I'll do some coaching and I want to get some retreats happening as well. My wife's been a stay-at-home mum so we're swapping roles next year and I'll try to do something with this."
Taylor will end the year a much happier man than he was at the beginning – just don't ask him what he is having for Christmas dinner.