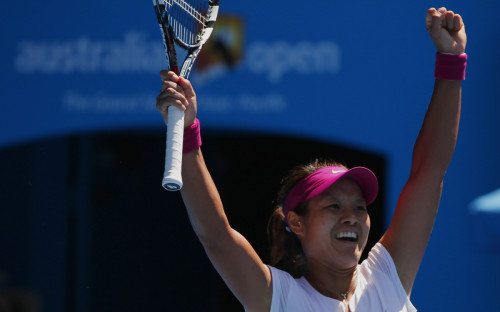 Fourth seed Na Li of China has moved into the final of the 2014 Australian Open after vanquishing Canadian Eugenie Bouchard in straight sets, 6-2, 6-4.
Li's next opponent on the big stage on Saturday will be Slovakian Dominika Cibulkova, who defeated Agnieszka Radwanska of Poland in the other semi-final, 6-1, 6-2.
Bouchard stood no chance against the power play of the 31-year-old who qualified for the third final of the competition in the last four years.
Bouchard had entered the semi-finals after stunning Serbia's Ana Ivanovic in a three-set battle and was victorious in a similar manner against Australian Casey Dellacqua in the fourth round.
However, the fourth seed had a relatively easy route into the penultimate round of the competition, with her only real scare coming in the fourth round against Lucie Safarova when the Czech won the first set.
The 19-year-old could never come back into the game after Li took an early lead in the first set. The 2011 French Open winner had no trouble whatsoever even though Bouchard was starting to find her grip in the set; Li went on to win 6-2 in less than half-an-hour.
Bouchard moved ahead 2-0 in the second set, but Li's experience enabled her to fight back as she took a 5-3 lead in the subsequent games.
After playing for nearly an hour, Bouchard's inexperience let her down against her vastly mature opponent as she lost the second set 6-4 enabling Li to qualify for her second straight final.
Li lost to Kim Clijsters in the 2011 edition of the Australian Open and to Victoria Azarenka last year, but will be determined to win it this year.