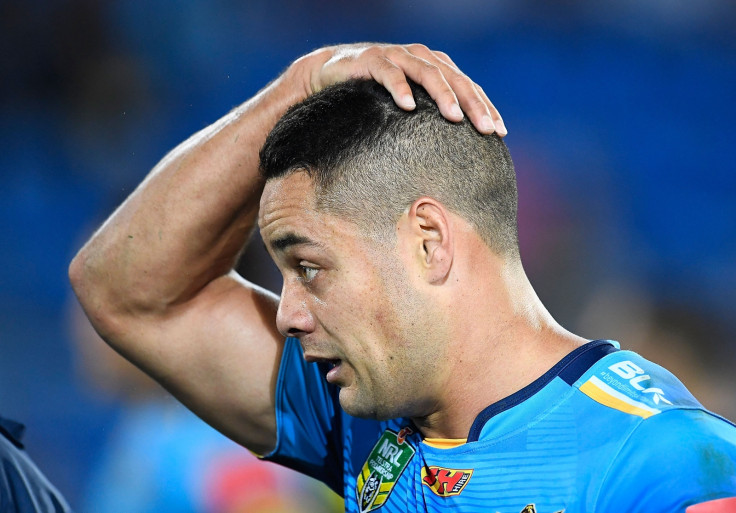 National Rugby League star Jarryd Hayne was revealed to be blameless after pornographic images were displayed in front of schoolchildren during a presentation on cyber security. The 28-year-old was leading a talk on online safety at Robina State High School in the Gold Coast of Australia when the homepage of an adult-only site flashed up on the big screen, causing much amusement among the assembled 200-plus students.
The images, which included a topless women, remained visible for a number of seconds before Hayne removed his phone to protest his innocence. He was at the time displaying his browsing history – a number of sports images – as part of the seminar on the dangers of joining open WiFi networks.
Norton Security, whom the 2013 World Cup winner was presenting on behalf of, have confirmed the images came from a separate device which had joined the same network in which Hayne's phone was operating. The school have denied the device belonged to anyone in the room, though the network could have been accessible from outside the grounds.
"During our WiFi demo we had an open network that was available for anyone to connect to and someone had connected to the network and browsed to a site where the images were displayed," Nick Savvides or Norton said, according to Australia Associated Press. "I've just checked and the device that connected that did that was not Jarryd's phone. It's unfortunate but all I can say is it definitely was not Jarryd's device."
Hayne was not due to lead any further talks on cyber security, as Norton conduct a full investigation into the episode. "It was (awkward)," the Gold Coast Titans full-back admitted. "I shut my phone straight away so that way I was logged off."
Students effected by the images will be offered support and all efforts will be made to ensure there is not a repeat offence. "I am disappointed that students were exposed to the images," principal Julie Warwick said. "I have been assured by the external provider that they will reflect upon this to ensure this does not happen at any future school presentations."
Hayne is one of the biggest names in the NRL, playing for Parramatta Eeks and the Titans, before switching sports in 2015 to play for the San Francisco 49ers in the National Football League. The New South Wales-born Hayne spent one season in the NFL before turning attention to breaking into the Fiji rugby sevens squad for the Rio 2016 Olympic Games – attempts which eventually proved unsuccessful.