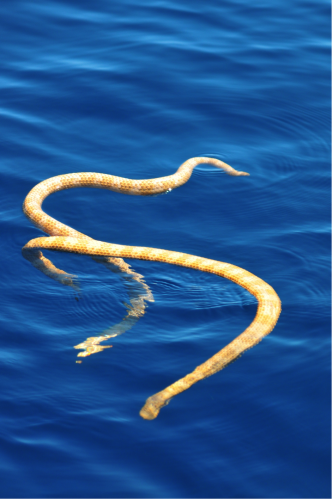 Two species of sea snake, previously thought to be extinct, have been spotted on the Australian west coast. The critically-endangered species have not been seen in their only known habitat for more than 15 years.
The short-nosed sea snake and the leaf-scaled sea snake have both been found living in the wild by scientists in Australia. They are both listed as 'critically endangered' in Australia's threatened species legislation, meaning that they have special protection.
The short-nosed sea snake was initially discovered by Grant Griffin, a Western Australia Parks and Wildlife Officer who took a photograph of a pair of the snakes and sent it to an expert for verification.
"We were blown away," said Blanche D'Anastasi, lead author of the official report who received the photograph from Griffin. "These potentially extinct snakes were there in plain sight, living on one of Australia's natural icons, Ningaloo Reef."
The report, published in Biological Conservation, also shows that the two short-nosed sea snakes were a couple. This suggests that they are members of a breeding population, so scientists hope to see more of them in the future.
The researchers also managed to document the living existence of 16 leaf-scaled sea snakes – similarly thought to be extinct. They were spotted in the seagrass meadows of Shark Bay, Western Australia – more than 1,000 miles south of their only previously known habitat.
"We had thought that this species of sea snake was only found on tropical coral reefs. Finding them in seagrass beds at Shark Bay was a real surprise," said D'Anastasi.
Previous research in April 2015 used individuals of these sea snakes from museums, or that had washed up on beaches, to prove that they must exist in the wild, as separate breeding populations.
D'Anastas told IBTimes: "Our research builds on this significantly, presenting a substantial number of new records, that are the first unequivocal records of live short-nosed and leaf-scaled sea snakes since their disappearance at Ashmore Reef."
Australian sea snakes have been declining at a very fast rate. More than 50% of their population died between 1973 and 2010.
"This discovery is really exciting, we get another chance to protect these two endemic Western Australian sea snake species," said D'Anastasi. "But in order to succeed in protecting them, we will need to monitor populations as well as undertake research into understanding their biology and the threats they face."