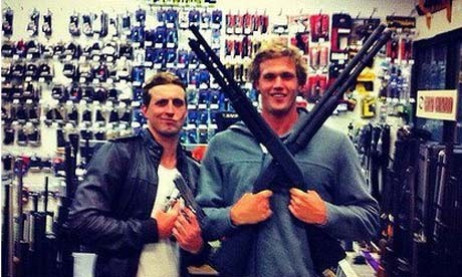 Australian Olympic swimmers Nick D'Arcy and Kenrick Monk have been ordered to remove pictures of themselves posing with guns by group Swimming Australia (SA)
The photograph shows Monk holding two-pump action shotguns and D'Arcy brandishing two pistols at a gun shop in the US, where the pair have been training for the London Olympics.
SA ordered the pair to remove the photos from their Twitter and Facebook pages as they breached their social media policy.
SA said: "In no way [do we] condone these photos and do not condone the posting of inappropriate content on Facebook, Twitter or any social media platform.
"This is a timely reminder for athletes to more be responsible to themselves, the public with whom they engage through social media, and the reputation of the sport.
"The athletes involved are returning from a training camp and competition in the US, and will be spoken to further upon their return
The Australian Olympic Committee said it would wait for the Swimming Australia investigation into the latest episode before considering sanctions for what it described as "foolish and clearly inappropriate for members of the 2012 Australian Olympic team".
Australia's Chef de Mission for the London team said: "These postings are foolish and clearly inappropriate for members of the 2012 Australian Olympic Team.
"There is an investigation by Swimming Australia. SAL's social media policy has a takedown clause. They have enforced that clause today. Our social media policy also contains a takedown clause and we will use that where we see fit during the London Games.
"Anything that is not in the Olympic spirit, or does not follow our guidelines will come down. There is no such thing as privacy on social media. Anything that is put up will be in the public domain."
This incident is not the first time the pair have courted controversy.
D'Arcy was excluded from the 2008 Australian Olympic squad after assaulting fellow swimmer Simon Cowley in a bar fight in Sydney the night he won selection to the squad
Monk was lucky to avoid charges in 2011 for falsely claiming to police that he had been the victim of a hit-and-run auto accident. He later admitted that he was injured when he fell of his skateboard.