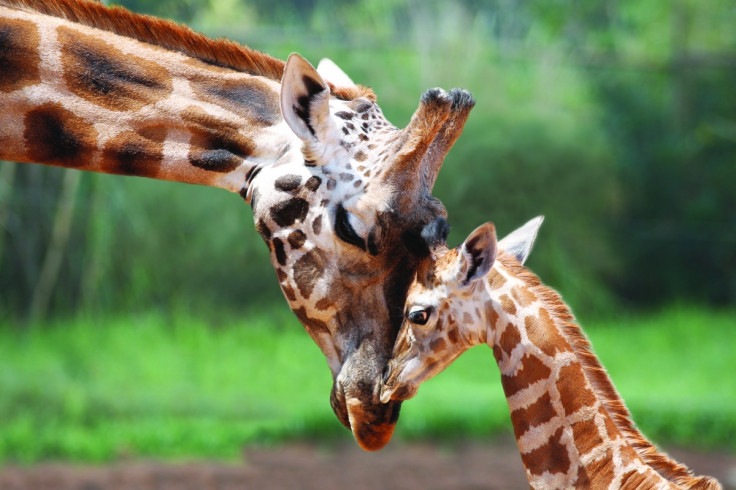 The image of her leaning down and planting a tender kiss on her offspring's head made her world famous, but after her suffering became too great staff at an Australian Zoo were forced to put down Misha the giraffe. Having reached the age of 25-years and nine months, Misha was well beyond the average lifespan for a giraffe in the wild of around 17 years.
"It was a very hard decision but the right decision", said Perth Zoo's Curator of Life Sciences, John Lemon, adding there "was no prospect of recovery" for the Rothschild Giraffe.
Misha became a star around the world after she captured by photographer Ron D'Raine reaching down to kiss her male calf Makulu in 1995. The image is known as The Kiss.
"That iconic picture helped raise the profile of Perth Zoo and the endangered Rothschild Giraffe," Lemon said.
The zoo said Misha was suffering from "chronic osteoarthritis" which meant her 870kg frame was placing enormous pressure on her knees and ankles.
As a result, she was in constant pain and increasingly unable to walk properly, according to The West Australian newspaper. Specialist medications and a daily massage were not enough.
Lemon said they didn't "want her to suffer any more pain."
"There was no prospect of recovery, it was clear she was in constant discomfort and we owed it to Misha to give her a dignified end to her life," he said. "She's done so much for us and we want to do the right thing by her.
"She was a very loving and caring giraffe, not only for her calves but for the keepers who cared for her," he added.
Born at New Zealand's Orana Wildlife Park in 1990, Misha moved to Perth Zoo in 1991 where "she made a significant contribution to safeguarding a future for her species, giving birth to seven calves during her lifetime".
"Her impact cannot be underestimated," Lemon said, adding that her son Makulu has 58 descendants while Misha's "lineage extends all over the world".