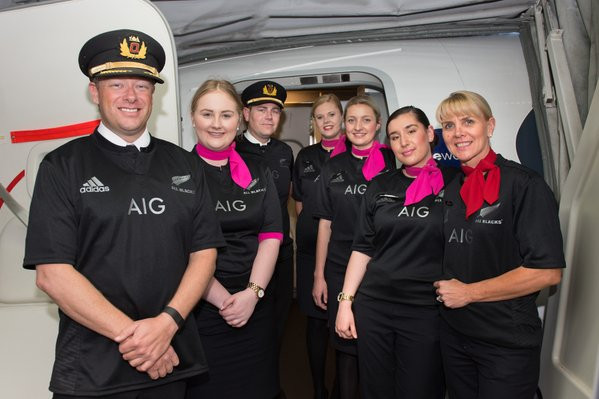 Qantas graciously accepted defeat and donned the All Blacks jerseys given to them by their fellow Air New Zealand colleagues following a wager over Twitter. The crew on Monday's (2 November) flight from Syndey to Auckland saw them wearing the jerseys. The pilot and his co-pilot were not spared either.
The friendly sparring over Twitter started when Air New Zealand tweeted a photoshop image of a Qantas plane painted completely black with the slogans, Team All Blacks, Bound in Black and Simply the Best on the body of the aircraft. It added in the tweet: "We've been thinking about this wager. How about you paint your planes like this."
Qantas planes are painted in white and red while Air New Zealand are white with a black tail. Qantas was quick to respond, suggesting instead that Air New Zealand "needs a golden touch", and published a picture of a digitally retouched Air New Zealand aircraft in bright Australian gold.
The banter continued with Air New Zealand saying: "We wouldn't want to slow our planes down ... with all that extra paint." And Qantas responded with: "We wouldn't think you'd be in a hurry to get here when you lose."
Air New Zealand then on Friday suggested that Qantas wear the All Blacks jersey if Australia lost the Rugby World Cup finals held on Saturday but both then decided to formalise the bet offline. The friendly banter received a huge following and praise from followers on the social media who praised Qantas and New Zealand for their sporting fun.
Air New Zealand even joked on Twitter that they have been busy sourcing All Blacks jerseys for the Qantas crew, claiming that the jerseys seem to be in demand at the moment. Qantas got the winning medal though for showing great sportsmanship for wearing the black jerseys. Some noted that the Qantas crew looked very "smart and stylish" in the All Black jerseys.
One fan however felt that that was not enough. He suggested Qantas should now paint its plane as well!