A 30-year-old British soldier who climbed into a six-year-old girl's bedroom in Austria before raping her has been jailed for nine years.
Craig Stormey, of the 7th Parachute Regiment Royal Horse Artillery, was taking part in an alpine skiing course in the Stubai Valley, Tyrol when the incident occurred in November 2014.
The court in Innsbruck heard Stormey was earlier drinking with friends but claimed to have no memory of what transpired. He entered the house via an unlocked door, entered the child's room, undressed and seriously assaulted her. Stormey was then confronted by the girl's father, who was woken by the commotion.
"I was lying in my bed and saw a figure holding a child in his arms," the child's father told court.
"I was half asleep and first thought it was my wife but then I realised she was lying next to me. Then I saw the naked stranger in another room with my daughter. I completely flipped and hit him several times in the face."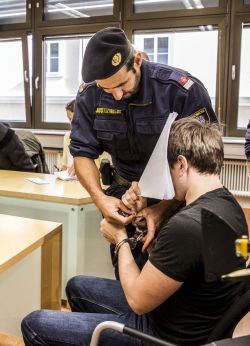 Speaking about his daughter's ordeal he said: "Our daughter has managed to cope with the incident relatively well. But she has a very good memory."
Stormey said he could not explain what had happened or why, though he had apologised to the girl's family.
"There is no explanation for what I did, and there is also no excuse," he told court. "All I can remember is fighting inside a house with a man, and a woman who held a child in her arms."
Stormey told court he had witnessed sexual assaults while on duty in Afghanistan and suffered PTSD. Psychiatrist Reinhard Haller confirmed this but said he was legally sane at the time of the assault. Stormey was jailed for nine years but his solicitor said he would appeal the length of the sentence.
A spokesman for the Ministry of Defence (MoD) confirmed an application will be made to discharge Stormey, who is based at Colchester Garrison. However in a statement the garrison refused to confirm Stormey's identity.
"We are not prepared to release any personal information about this individual," the statement said. "We have a common law and Data Protection Act duty to protect the personal information of our employees and there is no good reason to release personal information in this case."