Austria's far-right presidential hopeful Norbert Hofer conceded defeat and congratulated independent candidate Alexander Van der Bellen on his victory in the 2016 presidential election, held on Sunday, 4 December. Latest projections showed the Green Party-backed van der Bellen secured 53.6% of the votes against Hofer's 46.4%.
Congratulatory messages started pouring in for the newly-elected president, who pledged to build a pro-European Austria. His victory is being linked to the emergence of an anti right-wing populism sentiment across Europe.
Unlike the presidential elections held in May, when Hofer and his anti-immigration Freedom Party challenged van der Bellen's victory and called for a re-run, the party head said they will not take any such action this time and extended his good wishes to the incoming president.
"This time clearly there are no complaints... Today we can be sure that citizens' votes were properly handled," Heinz-Christian Strache said on Austria's public television, The Local reported.
Hofer conceded defeat within minutes of the first projections without waiting for the full official results expected on Monday (5 December). He thanked his supporters and said he felt "incredibly sad that it didn't work out" as he had wanted to "watch over our Austria".
"I congratulate Alexander Van der Bellen on his success and ask all Austrians to stick together and to work together. We are all, equally, Austrians, no matter how we voted at the ballot box," he reportedly added.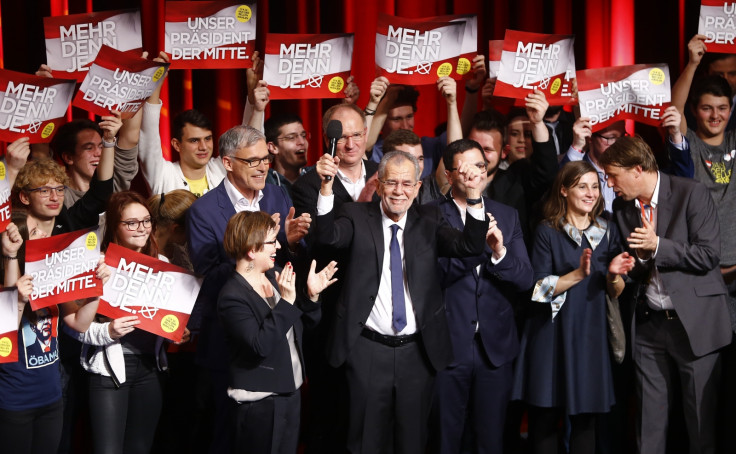 Congratulating the new Austrian president, European Council head Donald Tusk said in a statement: "It is my pleasure to extend my wholehearted congratulations on your election ... On behalf of the European Council and personally, I wish you every success."
Germany's Social Democrat Vice-Chancellor, Sigmar Gabriel, said: "If the projections are right, the Austrian election result will be a clear victory for common sense against right-wing populism."
French President Francois Hollande thanked the Austrian citizens for "choosing Europe and openness".
Van der Bellen, 72, termed the election result a vote for a "pro-European" Austria based on "freedom, equality and solidarity". "Finally, you know, I will try to be an open-minded, a liberal-minded and first of all a pro-European federal president of the Republic of Austria," the BBC quoted him as saying on public television.