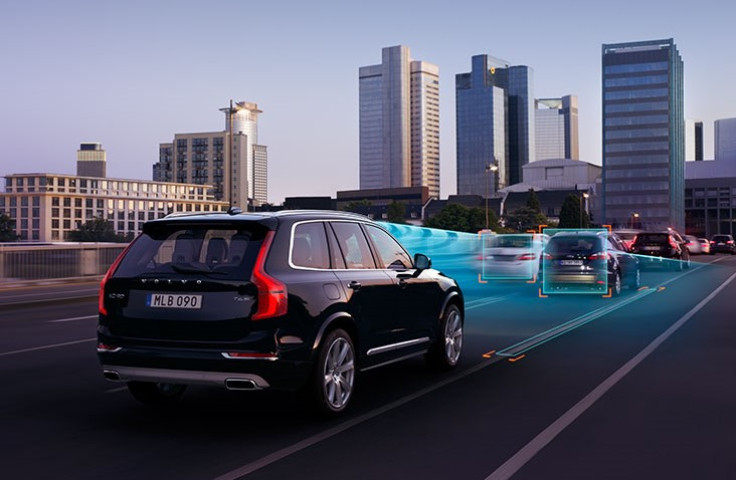 The first autonomous cars available to the British public will have no markings to say they are driven by computer, because there is a risk that human drivers will attempt to bully them out of the way.
A small fleet of 100 self-driving Volvo XC90 sports utility vehicles will be leased to customers in London as part of a pilot scheme starting in 2018. The reason for the cars bearing no markings is because Volvo is worried that aggressive motorists will drive closely to the safety-conscious autonomous cars, which are more likely to yield than humans.
Speaking to the Observer, Volvo senior technical leader Erik Coelingh said: "From the outside you won't see that it's a self-driving car. From a purely scientific perspective it would be interesting to have some cars that are marked as self-driving cars and some that are not and see whether other road users react in a different way."
Coelingh admits he isn't sure exactly how other drivers would react to a car marked as autonomous. "Just to be on the safe side they will all be unmarked cars. I'm pretty sure that people will challenge them if they are marked by doing really harsh braking in front of a self-driving car or putting themselves in the way."
Volvo's concerns echo the findings of a London School of Economics survey published earlier in October. It found that aggressive drivers would likely attempt to bully autonomous cars out of the way. One of the 12,000 drivers who took part in the survey said: "I'll be overtaking all the time because they'll be sticking to the rules."
Volvo will need to find a way of installing the lidar and camera systems needed for autonomous driving as subtly as possible. Even if there is no branding, a car with camera equipment and sensors on its roof will raise suspicion among other drivers.
The London pilot scheme will come after Volvo begins a similar trial, called Drive Me, in Gothenburg, Sweden in 2017. Customers will be able to drive the cars normally but will be asked to switch into a fully autonomous mode on certain roads. For the UK trial the M4 connecting Heathrow airport and central London will be one such road.
Volvo wants to understand how best to teach its cars to navigate real-world traffic, including the unpredictable and sometimes erratic and aggressive behaviour of other motorists. Despite the obvious challenges, Coelingh reinstated Volvo's assurance that it will be responsible for any incident caused by the autonomous car when the self-driving mode is switched on.
"If there is a crash and the car is in self-driving mode, even if the driver is reading a newspaper, then we – Volvo – are responsible," he said.