We've had the "biggest investment in the railways since the Victorians" so the announcement of road plans had to trump that – which means we now have "the largest road-building programme for the UK since the Romans", according to the government press release, £15bn road-building programme over the next five years.
In fact it is nothing of the sort and, indeed, it seems a misguided political manoeuvre when so many other services, about which people care far more than roads, are being cut back or shut down altogether.
Unlike Margaret Thatcher's Roads to Prosperity, published in 1989, which proved so unpopular that many schemes were not built, this programme barely contains any completely new roads. The thrust of the initiative is on using motorway hard shoulders and other widening schemes, and technology to make roads smarter. So much of it, ironically, will in the short term be a pain for motorists who will face yet more roadworks.
The numbers first. The £15bn is a rehashed figure from previous press releases and announcements and does not seem to have been inflation-proofed, which means the number is rather down on last year's £15.1bn programme announced in a document called Investing In Britain's Future.
Some of the money seems to have been already spent on schemes under way and a chunk is earmarked for maintenance, which means the best guess of the annual programme of investment is around £2bn, unremarkable by modern standards.
Travel levels are not growing particularly fast
However, the biggest question, which is not addressed at all, is whether the justification for the programme - the projected increase in traffic levels - will materialise. The latest figures from the Department for Transport show that in the ten years to the end of 2013, traffic levels grew by just 0.4% – that implies an increase of less than 0.04% annually.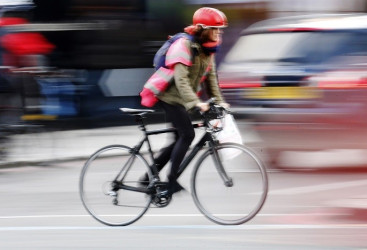 Car traffic has fallen slightly in that period and HGV mileage has gone down by 11%, which means all the rise has been down light goods vehicles, many of which are presumably driven by those white van men who are the bedrock of Ukip support.
Though in reality, much of that rise is due to internet orders by the likes of Amazon and Sainsbury's.
While there was a recession during that period, the decline in mileage stretches back to the end of the 1990s. The reduction in oil prices, which may be permanent, could lead to a rise in demand but there are other factors that mitigate against it.
The reduction in HGV traffic is partly the result of miniaturisation – think how many flatscreen TVs you can get in a lorry compared with old style cathode ray monsters – and greater efficiency on the part of logistics providers. Company cars have become less tax efficient and consequently many business people have been attracted on to the railways, not least because they can also work on their mobile devices during the journey.
Shoppers, too, have rediscovered their local high streets and young people are no longer so eager to learn to drive, partly, again, because they can sit on the train or bus and play Angry Birds or Call Of Duty. Even the renaissance of cycling has resulted in shifting a few drivers off the roads. The trend of falling vehicle mileage has been observed in the US for some years, despite the fact that the country is blessed with far less good public transport than the UK.
What about filling potholes instead?
Focusing in the short term on filling potholes, a source of great angst among local people, would have been politically far more popular even though far less exciting and newsworthy. In the long term, the issue is how will any roads budget be paid for. The revenue from fuel duty is being hit by a shift towards electric and gas-powered cars, and will suffer further if world oil prices stay low.
The only long-term solution is road pricing. All politicians know it, and all are far too scared to address it. However, there will be a stage when fuel duty revenues fall so dramatically that an alternative income source will be essential. Possibly, that will be around the time this five-year programme of road investment comes to an end.
Christian Wolmar is seeking the Labour nomination for the 2016 London mayoral election. Tweet him @WolmarforLondon or follow his campaign on Facebook or via www.wolmarforlondon.co.uk.