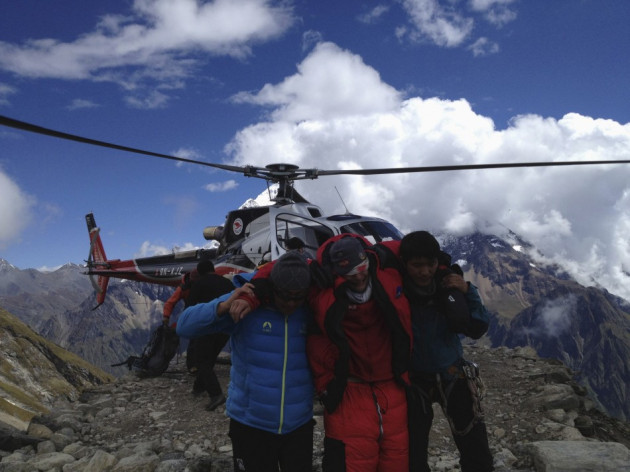 At least 10 people have reportedly been killed in an avalanche that struck the world's eighth-highest peak, Manaslu, in the Himalayas.
The avalanche occurred at 7,000 metres (22,950 feet) above sea level, destroying one tented camp and damaging another. Rescue attempts have thus far been hampered by thick cloud and fog.
It is believed the death toll will rise considerably as the rescue teams move in. Unconfirmed reports suggest as many as 38 people are missing.
The dead are thought to include climbers from France, Italy, Spain, Germany and Napal. It is not yet known whether any British nationals are among the casualties.
"There were seven French victims ... We got the information directly from base camp," Denis Crabieres, head of the French Mountain Guides Association, told Reuters.
The avalanche is the worst disaster in Manaslu's history, and the worst in Nepal since 42 people were killed on Mount Everest in 1995.
'A major, major accident'

A spokesperson for Alpine Ascents, an American company which had organised an expedition up Manaslu, said the weather was good at the time of the avalanche, and the catastrophe was caused by the slippage of a large ice cliff.
Camp Three, an encampment situated around 1,000 metres from the summit of the 8,156-metre mountain, suffered the brunt of the avalanche. Camp Two, situated slightly further down the mountain, was also battered by the cascading snow.
Celebrity adventurer Glen Plake, who is renowned for his daredevil ski stunts, was among those hit by the avalanche in Camp Three. He was swept 300 metres down the mountain by the snow, and lost several teeth in the process.
Speaking after being rescued, Plake told mountain sportscaster EpicTV.com: "It was a major, major accident. There are up to 14 people missing. There were 25 tents at Camp Three and all of them were destroyed; 12 tents at Camp Two were banged up and moved around."
Another climber, who suffered a back injury in the disaster, said "I was so confused that I can't say how far I was swept away, or how many people were there in the camp at the time of avalanche."
The Himalayan region contains eight of the world's 14 highest mountains including Mount Everest, the highest peak in the world. The area is perennially popular with climbers, and is particularly busy during the autumn climbing season from September to November.