Avengers: Age of Ultron's psychopathic android villain Ultron has been revealed on the cover of Entertainment Weekly.
The news comes the week before 2014's San Diego Comic Con, where Marvel will have a huge presense that will likely involve the screening of footage to fans in attendance and the release of further press material - a teaser trailer or poster perhaps.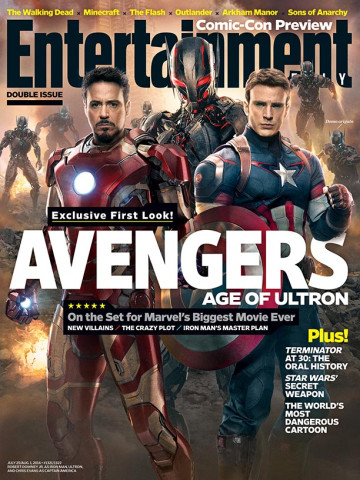 EW's in-depth feature on the film includes interviews with all the film's heroes, including cover stars Robert Downey Jr and Chris Evans. Speaking of the idea that heroism can't be abdicated, Downey Jr says: "What you said about abdication is apt, but I think it's also about recognizing limitations. The downside of self-sacrifice is that if you make it back, you've been out there on the spit and you've been turned a couple times and you feel a little burned and traumatized."
The feature also confirms that Iron Man's alter-ego Tony Stark creates Ultron as a way to prevent him from becoming Iron Man. At the end of Iron Man 3 Stark destroyed his suits and seemingly gave up life as a superhero. Despite his plans, that won't be the case for long.
Creating an "Iron Legion of drones", Stark builds Ultron to control them, only the andoird - voiced by James Spader - goes a little nuts, determining that life on Earth would be a lot more peaceful if humanity was erradicated.
"Ultron sees the big picture and he goes, 'Okay, we need radical change, which will be violent and appalling, in order to make everything better'; he's not just going 'Muhaha, soon I'll rule!'" says director Joss Whedon.
The article goes on to describe Ultron as so...
"The hard part about battling Ultron, as the cover image suggests, is that he's not just a robot—he's a program, capable of uploading himself and disappearing not into the clouds but the Cloud. And he has a bad habit of rebuilding himself into stronger and more fearsome physical forms."
'Avengers: Age of Ultron' will be released on 24 April 2015. Further information will be revealed when Entertainment Weekly hits US shelves this Friday and when San Diego Comic Con starts next week.