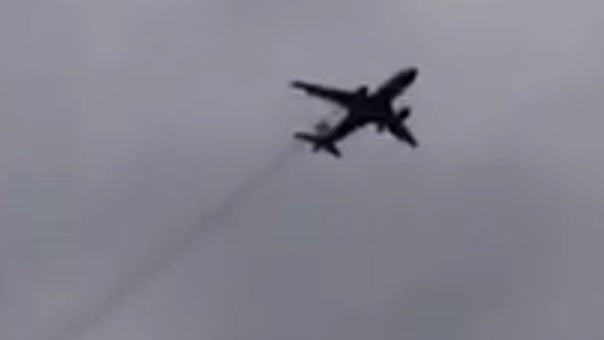 Witnesses have described seeing a plane on fire as it flew over London before making an emergency landing at Heathrow airport.
Both runways were closed at Britain's busiest airport after flight BA762, en route to Olso, was forced to make an emergency landing soon after take-off when it lost power in one of its engines. All 75 passengers and crew were evacuated safely. Three sustained minor injuries.
London Fire Brigade crews attended.
Nearby homeowners described seeing the plane "on fire" with smoke trailing behind it as it flew over residential areas.
Clive Cook, who lives under the Heathrow flight path, told Sky News: "The engine itself was on fire. This plane was coming over and suddenly the tone of the engine changed dramatically and I could almost say it sounded as if it was like a blowout, or an explosion."
Rob Brownell, 33, who saw the plane from Imperial Wharf train station in Chelsea, west London, told the BBC: "There was this almighty rumbling overhead - I looked up and saw the plane on fire. There were flames coming not just from the engine but lapping the wing.
"My initial thought was, 'My God this thing is going to blow up'. The wings are full of fuel so I couldn't see how there could not be an explosion."
He added: "It left a black smoke trail in the sky and there was a smell of aviation fuel afterwards."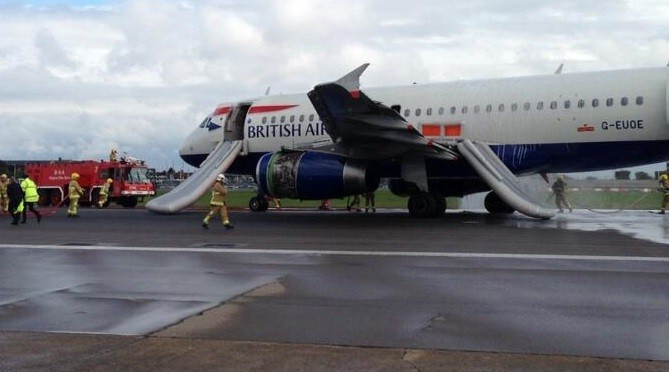 Another winess, who only gave his first name, Jamie, said: "We could just see the right engine on fire - it was absolutely horrendous to see.
"You don't see things like that every day. To see an aircraft on fire - it wasn't good to watch."
Capt Mark Searle, chairman of the British Airline Pilots' Association (Balpa), praised the pilot and crew members for helping to avert disaster.
Flight cancellations
Searle said: "This was a professional job done by professional people. As pilots we spend our whole career training to manage incidents such as this in order to avoid an incident becoming a disaster.
"Balpa representatives will be assisting the pilots involved in this incident and providing whatever support they need. And, as always, we will all learn whatever lessons we can."
Heathrow airport has cancelled 186 flights - right in the runup to the Bank Holiday weekend, although both runways have reopened.
Passengers hoping to travel from Heathrow are advised to check the status of their flight with their airline before travelling to the airport.
A full list of the cancelled flights can be found here.