Newborn Baby Rescued from Sewage Pipe by Firefighters in China [VIDEO]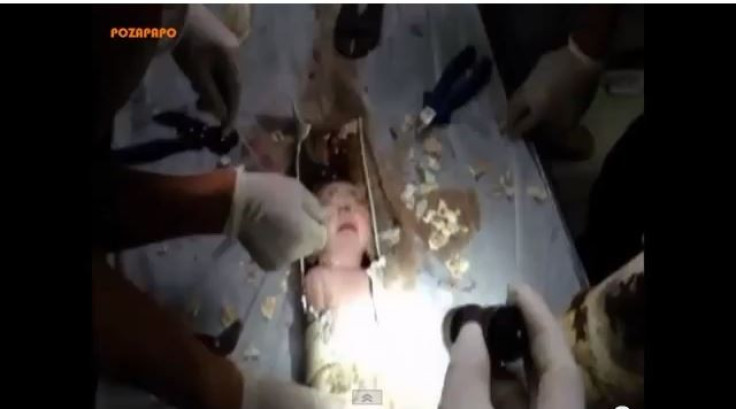 Firefighters in China have rescued a new born baby from the sewage pipe of an apartment building after residents reported hearing it cry.
The two-day-old baby boy is understood to have been abandoned by its parents since no one has come forward to claim it. Police are currently hunting for the parents.
"Fortunately the baby survived. But the person (who abandoned him) is still suspected of attempted murder," an unidentified police officer was quoted as saying by hangzhou.com.cn.
The baby boy was stuck in a sewage pipe right below a toilet commode, according to reports from local media.
The residents of the apartment building in Jinhua, located in the eastern province of Zhejiang, summoned firefighters after they heard an infant's cries coming from the fourth-floor toilet.
The rescue team initially tried to pull the baby from the sewage pipe but were unable to reach it.
They eventually rescued the child by sawing through a section of the pipe and taking it to hospital, where it was carefully dissembled with pliers and saws to reach the baby.
China Daily said the pipe was just 10cm in diameter and that the baby is believed to be just a few days old, weighing just 2.3kgs.
The baby still had its placenta attached to the body and may have been stuck in the pipe for at least two hours before being rescued, suggests reports.
The infant suffered bruises to his face, hand and legs. Though the infant's heart rate dropped to very low at one point in time, its condition at the moment is reportedly stable.
The incident is just the latest in a series of cases of child abandonment seen recently in China.
While the parents' motivatiuon is unclear in this case, one possible reason could be the strict one-child policy in China which requires couples to pay heavy fine for having more than one baby.
China also has a high rate and frequent reports of babies being abandoned shortly after birth, a problem attributed to teen pregnancy and female feticide, a common phenomenon in the country.
Many people have condemned the baby's parents on China's Sina Weibo, a social media service similar to Twitter. One user said: "The parents who did this have hearts even filthier than that sewage pipe."
(Video Courtesy: YouTube/pozapapo)
© Copyright IBTimes 2023. All rights reserved.