- 12 Years a Slave wins Best Film
- Chiwetel Ejiofor wins Best Actor
- Cate Blanchett wins Best Actress
- Jennifer Lawrence wins Best Supporting Actress
- Barkhad Abdi wins Best Supporting Actor

- Gravity wins Outstanding British Film

- Frozen wins Best Animation
The complete list of winners can be read here.
6:00: Righto folks, let's get this party started! The British Academy Film Awards start at 7:00pm, but before that there's plenty of red carpet action to mock!

6:04: Dermot O'Leary and Leonardo DiCaprio are currently having a natter on the red carpet. A clash of the titans for sure.
6:07: Christoph Waltz arrives on the red carpet looking like he's up to no good.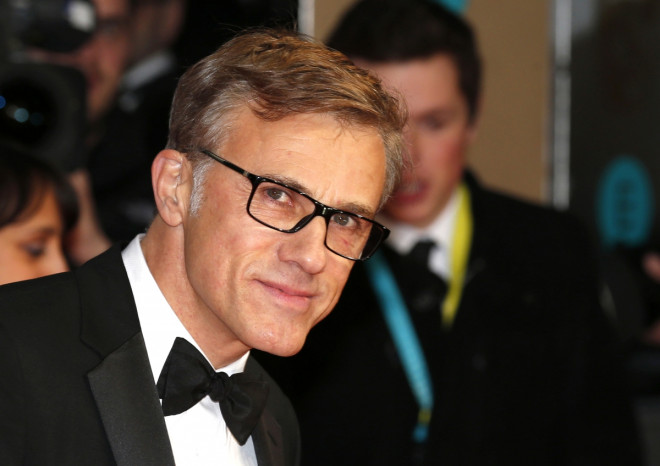 6:10: Red Carpet exclusive: Samantha Barks seems lovely.
6:11: Bearded Michael Fassbender is the best Michael Fassbender. Discuss.
6:19: Everyone is going nuts for Best Supporting Actress favourite Lupita Nyong'o on the red carpet and it's easy to see why...
6:21: Here are my predictions for the Baftas. Short version: 12 Years a Slave will probably sweep it and Judi Dench could upset Cate Blanchett. Long version:
6:28: If Steve McQueen (pictured below) doesn't leave with some kind of award, then consider that a huge shocker.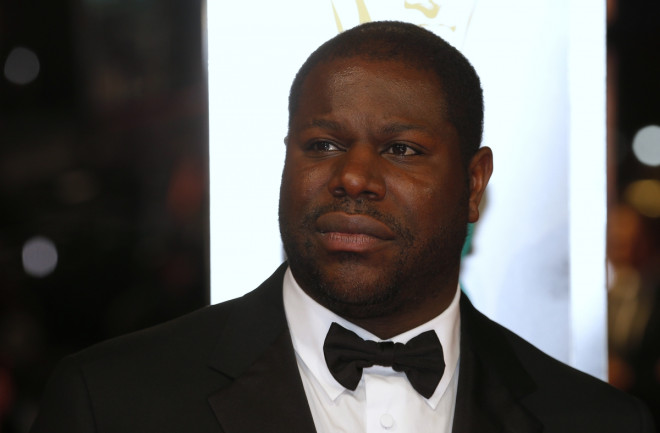 6:30: Brad Pitt and Angelina Jolie are here. Brad looks smart but Angelina can't even be bothered to do her bow tie up properly. Poor show Ang.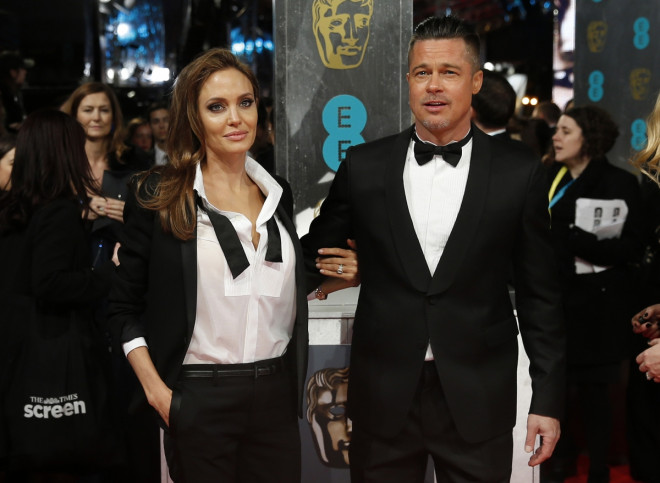 6:33: Some prince bloke just arrived. Think they said his name is William. Was he in Wolf of Wall Street or something?
6:38: Celeb folks are currently taking their seats inside the theatre ahead of the show, which starts at 7. Stephen Fry is presumably warming up somewhere ahead of his hosting duties, possibly doing lunges.
6:42: Here's the obligatory photo of Leonardo DiCaprio for the ladies...
6:45: Here's Stephen Fry's opening monologue from 2012. Expect some similarly impressive word play and plenty of jokes that sail straight over the heads of those Americans in attendance.
6:50: We are ten minutes away. TEN MINUTES. Kevin Bacon is currently harrassing Hollywood's elite, telling them to turn off their phones. Yep, they're showing that advert.
6:55: Here's Cate Blanchett on the red carpet looking lovely. She's expected to win the Best Actress pize later tonight for her performance in Woody Allen's Blue Jasmine.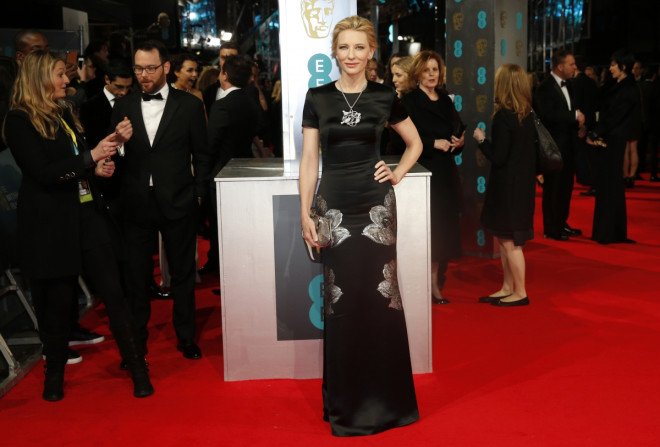 6:57: Stephen Fry is here and hosting with his famous wit and dry sense of humour. When it comes to award show hosts its him and Neil Patrick Harris, nobody else comes close.
6:59: Fry currently roasting the acting nominees and taking a dig at French politics in the process. Leo DiCaprio is this year's target to blow a kiss down the camera - last year it was Jennifer Lawrence and before that Brad Pitt.
7:00: Christian Bale seems to be in a good mood. Sure the lighting engineers are taking a mighty sigh of relief.
7:01: Tinie Tempah and Laura Mvula are here to sing and wrap our way through the year in film. Starting with Ben Stiller and Alan Partridge of course.
7:02: Tinie Tempah high-fived Prince William just before we saw Will Ferrell get bit on the tongue by a scorpion. Serious stuff here.
7:04: Mvula and Tempah were quite excellent there. Great start.
7:06: Outstanding British Film is up first, presented by Oprah Winfrey. Could be Philomena, will probably be Gravity.
7:07: Gravity wins Outstanding British Film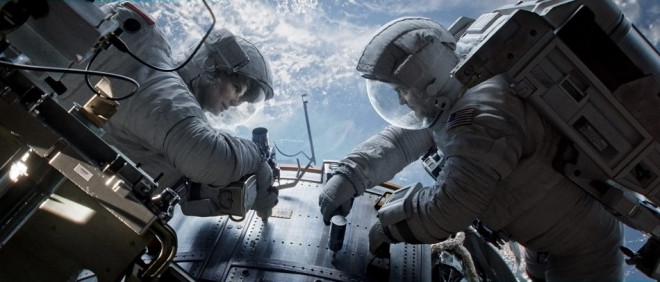 7:10: Samantha Bank and Luke Evans are here to present the Best British Short Film prize. It goes to Room 8. James W. Griffiths and Sophie Venner head up to accept the prize.
7:15: The Best British Short Animation prize goes to Sleeping With The Fishes, from James Walker, Sarah Woolner and Yousif Al-Khalifa. Very sweet little speech. Short too. Apt.
7:19: Richard E Grant and Olga Kurylenko are here to present the Production Design award. It goes to The Great Gatsby old sport!
7:22: Catherine Martin and Beverley Dunn have a long list of names to thank, but Martin has no reading glasses. Stephen Fry steps into help, lending his own glasses. Thanks Stephen!
7:24: Best Sound Design goes to Gravity. Its the sci-fi film's second award of the night, lots more to come in the technical categories I suspect.
7:28: Jack Hughston and Imogen Poots here to hand out the Best Documentary and Editing prizes.
7:28: Editing goes to Rush! Director Ron Howard is here to accept the award on behalf of Dan Hanley and Mike Hill. Howard suggests they miight have thanked him, but of course he was joking.
7:33: The Act of Killing wins Best Documentary. Also, Imogen Poots isn't great with a tele-prompter.
7:35: Joshua Oppenheimer gives a fantastic speech upon picking up the Best Documentary prize, and thnks his anonymous (for their own safety) Indonesian crew.
7:37: Make Up and Hair goes to American Hustle. Costume Design goes to The Great Gatsby.
7:43: Here's Alfonso Cuaron with his first Bafta of the night (for Best British Film). But will it be his only award?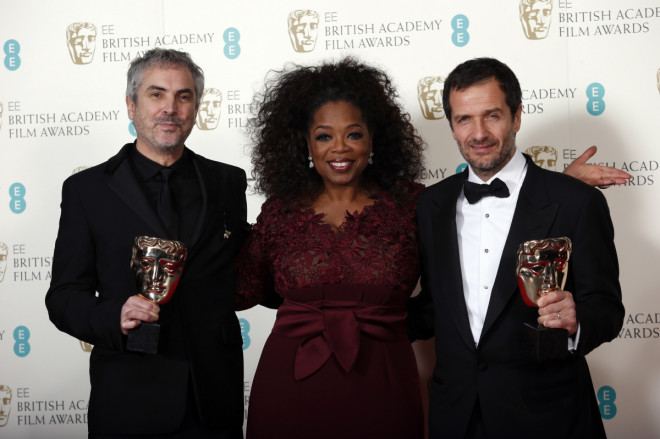 7:45: The prize for Best Original Music goes to Gravity. It's third prize of the evening. Steven Price is on stage to accept the award, and well-earned it is too!
7:46: They're really hurtling through the awards this year. Best Animation is up next, to be presented by Gillian Anderson and David Oyelowo. Frozen wins it.
7:49: Come on everyone, sing it with me. LET IT GOOOOOO!
7:52: Some talking heads including Amy Adams, Bradley Cooper and Christian Bale are now taking us through Best Picture nominee American Hustle.
7:53: Longest award name now, its Best British Debut By a British Writer, Director or Producer now.
7:54: Steve Coogan is here to present it, getting some hearty chuckles out of Stephen Fry before awarding to prize to writer/director Kieran Evans for Kelly & Victor.
8:00: Emma Thompson is here to present Best Supporting Actor. She's amazing, and appreciated being lovingly called "A ghastly piece of stinking offal" by Stephen Fry.
8:01: And it goes to Barkhad Abdi! Well done lad.
8:07: We're being talked through Best Picture nominee Captain Phillips now. Also the formatting of my live blog has gone awry about three inches up that way. Sorry!
8:09: Ray Winstone is here! Which brings us to this tweet from Danny Baker.
8:10: Gravity wins Best Cinematography. Director Alfonso Curaon is here to accept it on behalf of his cinematographer.
8:12: Leonardo DiCaprio is here to give the award for Best Supporting Actress. It goes to Jennifer Lawrence.
8:16: Jennifer Lawrence couldn't be there, so David O'Russell thanked himself. That's three times that's happened now, becoming a theme.
8:22: Lupita Nyong'o was thought to have it in the bag but I always had a niggling suspicion that Jennifer Lawrence would take it. In my opinion her performance was better, but that's not to take away from Lupita's marvellous performance.
8:23: Peter Greenaway gets the BAFTA for Outstanding Contribution to British Cinema.
8:26: Steven Price backstage with his Best Original Music prize, flanked by presenters Tinie Tempah and Laura Mvula.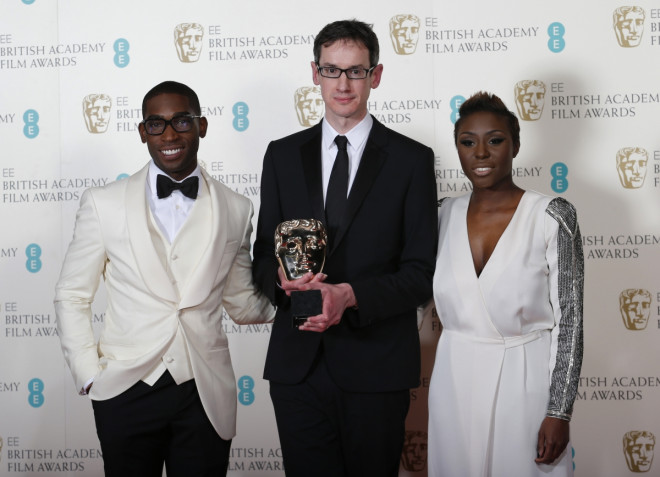 8:30: Stanley Tucci is here to hand out the Best Original Screenplay prize, which goes to Eric Warren Singer and David O'Russell for American Hustle.
8:31: Eric plants a kiss of David O'Russell. It's guy love, between twoooooo guys!
8:32: Here's Barkhad Abdi with his Bafta, as Stephen Fry corrects the grammar of screenwriting winner O'Russell.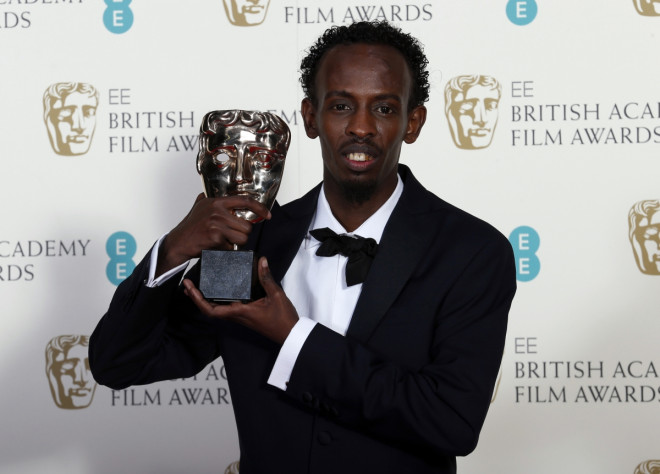 8:36: Amy Adams is here, after Fry suggests she once ingested an antelope whole (obviously). She's here to give the prize for Adapted Screenplay... and it goes to Steve Coogan and Jeff Pope for Philomena. Alan Partridge has a BAFTA!
8:40: Upon winning the prize Coogan thanks the real Philomena Lee (cue the camera cutting to Judi Dench) and makes note to mention the thousands of people like the real Lee who have yet to find their stolen children.
8:43: Stephen Fry corrects the grammar of the Adapted Screenplay winners: "If you're going to win for writing, you can at least speak properly."
8:45: The EE Rising Star Award goes to Will Poulter. Biggest shock of the night by far. Poulter gives a nice, charming speech. Funny lad.
8:51: Following the In Memoriam video - which paid tribute to Philip Seymour Hoffman, Shirley Temple, Peter O'Toole and Paul Walker, among many other legends of the business - we head into the Best Visual Effects category.
8:52: Matthew Modine presents the prize to Gravity. Well, duh! From the big shocker to a non-shocker.
8:55: Alright mate, everyone gets it and everyone knew you would win. We're running being schedule here, move along!
9:00: As the BBC starts to play catch-up we move on to the Best Film Not In the English Language, which goes to The Great Beauty. Bit of a surprise, many expected Blue is the Warmest Colour or The Act of Killing.
9:03: After a look at Gravity we move on to Best Actor.
9:05: And the crowd goes wild! Chiwetel Ejiofor wins Best Actor, and he gives a mighty speech.
9:11: Best Director now, which goes to Alfonso Cuaron for Gravity.
9:18: Tom Hardy is here to present the Best Actress prize. He has a magnificent beard and his voice is always amazing to hear.
9:20: Cate Blanchett wins Best Actress.
9:21: Cate dedicates her award to Philip Seymour Hoffman, who she says "continually raised the bar". A short and sweet speech.
9:23: And now for Best Film...
9:26: 12 Years a Slave takes home the big prize. Steve McQueen is on stage to recieve the award.
9:30: Prince William and Jeremy Irons here to present the Bafta Fellowship to Helen Mirren.
9:37: Blowing a kiss to her husband, Helen Mirren sends us off with a moving tribute to those that have helped and taught us all to be better people.
9:44: Well that's it folks. 12 Years a Slave took two of the biggest prizes as Gravity took home six gongs. Cate Blanchett won Best Actress, Lupita Nyong'o won nothing to the shock of many and Barkdar Abdi won for his debut role.
The complete list of winners can be read here.
And with that we bid you adieu. It's been a good one folks! See you at the Oscars.