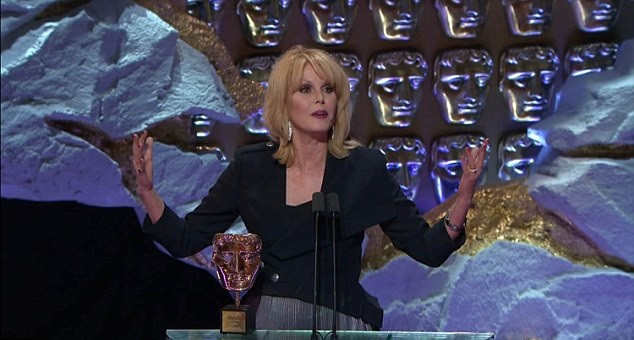 It was a night for winners at the Baftas 2017, not least among them Sue Perkins who took over the reins from Graham Norton as host of the prestigious event.
The former Bake Off star kicked off the ceremony at the Royal Festival Hall with a witty introduction that set the tone for the evening.
"Best crack on before someone sells the format to Channel 4," she joked referencing the Bake Off controversy that famously saw her quit the show.
One of the first winners on the night was comedian Michael McIntyre. Accepting his award from Sex and the City's Kim Cattrall he joked: "We've never met. You give me Baftas. We should meet more often!
"Everybody says they don't expect it, but you know I'm here and I'm dressed up and everything. But I didn't. I genuinely didn't. This is so fun."
Accepting the award for Best International series for The People vs OJ Simpson: American Crime Story Cuba Gooding Jr took over the mike. Kissing his award he announced he "literally wants to kiss every single person in this room" .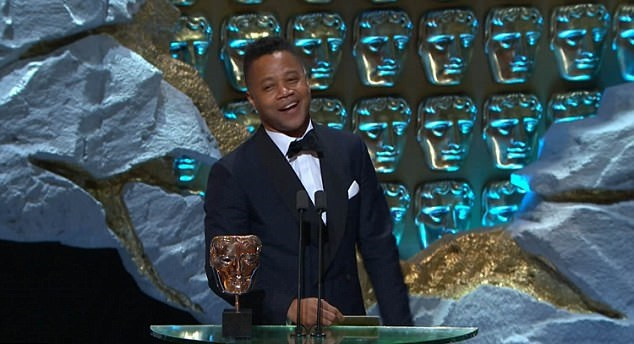 In a poignant moment Richard Taylor, the father of murdered schoolboy Damilola Taylor collected the award for Best Single Drama which he dedicated to his son and his late wife Gloria.
"I want to send an appeal to young people on the street killing themselves. Parents are crying, mothers are crying, killings have gone up recently in the city of London. I beg you all to stop this unnecessary killing of innocent people."
Winner of the reality and constructed factual category was Muslims Like Us which presented the experience of modern British Muslims.
One of the contributors to the programme, Mehreen explained: "There are 1.6 billion Muslims around the world and we knew it was impossible for the 10 of us to represent every single one of them. But the message behind [this programme] is not confined to one community. Regardless of your race or religion, we need to write our own narrative and stand up for what we believe in."
TV double act Ant and Dec kept up their awards winning spree picking up their seventh Bafta for Saturday Night TakeAway and receiving the Bafta for live coverage of the The Queen's 90th Birthday Celebration. " Thanks to Her Majesty," said Ant. "We should probably send the award to her."
Yorkshire set crime series Happy Valley won Best Drama series and Best Actress for star Sarah Lancashire. Paying tribute to one of her fellow nominees Crown star Claire Foy, Lancashire joked: "Claire Foy, you have given me the best 10 hours under a duvet I've ever had."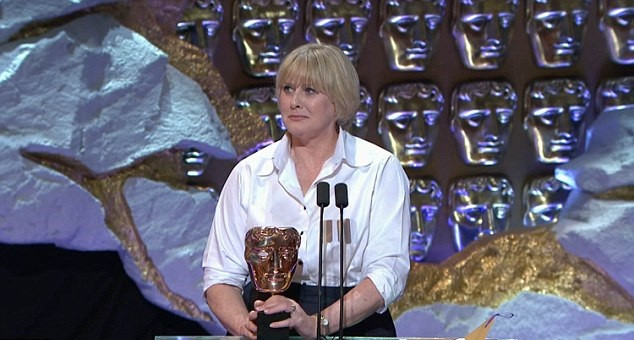 In a category that included Babou Ceesay, Robbie Coltrane and Benedict Cumberbatch Adeel Akhtar took the best actor award for the one-off drama Murdered by My Father, telling the story of an honour killing.
A highlight of the evening was the presentation of the Bafta Fellowship to Joanna Lumley in recognition of her work in television over four decades. Receiving a standing ovation, she accepted the accolade from friend and co-star Jennifer Saunders. The former model who has forged a varied and illustrious career in television and film paid tribute to the industry that has allowed her to express her creativity.
"We as actors, we're dragged about in golden carriages ... we are furnished with words, costumed, made up, we have stunt performers to make us look better. We have people who drive us, who dress us. We have all this," she explained.
"For me this is paradise because I'm here where I wanted to be - I'm in the company that I wish to keep ever since I was young. I wanted to be with people who left race and religion and age and gender and shoe size and things outside the door when they came.
"People who are in our profession don't have those discriminations," she said before slipping into Patsy to say a heartfelt thank you. "Cheers sweetie darlings, thanks a lot!"
List of Winners:
Leading Actress
WINNER - Sarah Lancashire (Happy Valley)
Claire Foy, Jodie Comer, Nikki Amuka-Bird
Leading Actor
WINNER - Adeel Akhtar (Murdered by My Father)
Babou Ceesay, Benedict Cumberbatch, Robbie Coltrane
Entertainment Programme
WINNER - Saturday Night Takeaway
Britain's Got Talent, Michael McIntyre's Big Show, Strictly Come Dancing
Entertainment Performance
WINNER- Michael McIntyre
Adam Hills, Claudia Winkleman, Graham Norton
Must-see moment
WINNER- Planet Earth II; Snakes vs Iguana Chase
Ed Balls; Gangnam Style, Danny Dyer WDYTYA, Line Of Duty; Urgent Exit Required, Game Of Thrones; Battle Of The B**tards, The Late Late Show with James Corden; Carpool Karaoke with Michelle Obama
Drama Series
WINNER- Happy Valley
The Crown, The Durrells, War & Peace
Female Performance in a Comedy Programme
WINNER - Phoebe Waller-Bridge (Fleabag)
Diane Morgan, Lesley Manville, Olivia Colman
Male Performance in a Comedy Programme
WINNER - Steve Coogan (Alan Partridge's Scissored Isle)
Asim Chaudhry, David Mitchell, Harry Enfield
Supporting Actress
WINNER - Wunmi Mosaku (Damilola Our Loved Boy)
Nicola Walker, Siobhan Finneran, Vanessa Kirby
Supporting Actor
WINNER - Tom Hollander (The Night Manager)
Daniel Mays, Jared Harris, John Lithgow
Soap & Continuing Drama
WINNER - Emmerdale
Casualty, Eastenders, Hollyoaks
Features
WINNER - Who Do You Think You Are?
The Doctor Who Gave Up Drugs, The Great British Bake Off, Travel Man: 48 Hours in...
Factual Series
WINNER - Exodus: Our Journey to Europe
24 Hrs in Police Custody, Kids on the Edge, Prosecutors: Real Crime & Punishment
Single Drama
WINNER- Damilola Our Loved Boy
Aberfan: The Green Hollow, Murdered by my Father, NW
International
WINNER - The People V OJ Simpson: American Crime Story
The Night Of, Stranger Things, Transparent
Live Event
WINNER - The Queens 90th Birthday
Centenary of the Battle of the Somme: Theipval, Shakespeare Live!, Stand Up to Cancer
Sport
WINNER - The Open
Rio 2016 Olympics, Rio 2016 Paralympics, Six Nations – England v Wales
Specialist Factual
WINNER - Planet Earth II
Alan Bennett's Diaries, Attenborough's Life That Glows, Grayson Perry: All Man
Single Documentary
WINNER - Hillsborough
Behind Closed Doors, How to Die: Simon's Choice, Hypernormalisation
Scripted Comedy
WINNER - People Just Do Nothing
Camping, Fleabag, Flowers
Reality & Constructed Factual
WINNER - Muslims Like Us
First Dates, The Real Marigold Hotel, The Secret Life of 5 Year Olds
News Coverage
WINNER- Victoria Derbyshire: Footballers' Abuse
@channel4news: Brexit Day One, @BBCNWT: Hillsborough, @SkyNewsTonight –Aleppo: Death of a City
Mini-Series
WINNER - National Treasure
The Hollow Crown: The Wars of the Roses, The Secret, The Witness for the Prosecution
Current Affairs
WINNER - Teenage Prison Abuse Exposed
Inside Obama's White House, Charlie Hebdo Attacks, Unarmed Black Male
Comedy & Comedy Entertainment Programme
WINNER - Charlie Brooker's 2016 Wipe
Cunk on Shakespeare, The Last Leg, Taskmaster