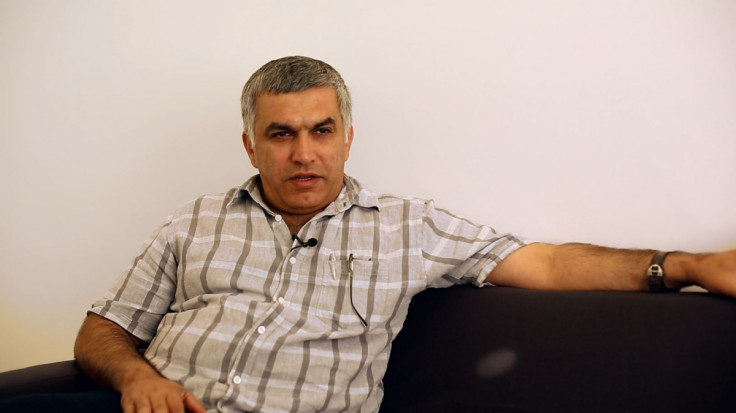 An activist that was held in Bahrain for more than seven months was due to be released on 28 December, until the authorities ordered him back into custody over a different investigation.
Human rights campaigner Nabeel Rajab has been in prison since 13 June, when he was charged over a series of messages posted to his Twitter account denouncing human rights abuses in his country and the ongoing Saudi-led war in Yemen. He was one of the leaders of the Arab Spring protests in 2011 in Bahrain and has been arrested several times in the past four years for his political activity.
Bahraini prosecutors announced his continued detention in an Instagram post, in which they do not mention Rajab's name, but accuse him of "spreading false and malicious rumours about the situation in the kingdom". The stunning U-turn was confirmed by his son Adam Nabeel Rajab, who tweeted: "Sadly, my father will not be released those oppressors already have another case ready for him, they don't want him out".
The prosecutors' announcement indicated that Rajab will not be released while other investigations are ongoing. Rajab faces separate charges over a letter published by The New York Times on 4 September, and there is also another ongoing investigation, which focuses on a letter published by the French newspaper Le Monde on 20 December.
Defense lawyer Jalila Sayed told the Associated Press she believes the court initially granted bail because a witness for the prosecution couldn't specifically prove that Rajab had control of the Twitter account in his name, nor show he sent the tweets in question.
"We hope this will end with an acquittal because the case has no evidence," she told the Associated Press, expressing concerns over Rajab's health.
"Nabeel is overall weak because of so many health problems he started facing, including heart problems and other physical issues," Sayed said. "He's under tremendous stress because of this length of detention."
Campaigner and co-director of the Gulf Centre for Human Rights, Maryam Alkhawaja condemned the Bahraini authorities' behaviour, calling it a form of "psychological torture".
Rajab's trial was criticised by the United Nations and human rights groups such as Amnesty International as an attempt to suppress freedom of expression. A spokesperson for the US State Department said that it was "very concerned" about Rajab's detention: "We call on the government of Bahrain to release him immediately. We have concerns about the state of human rights in general in Bahrain and we're engaging with the government ... on all these issues," spokesman Mark Toner said in September.
The incriminating letter to the New York Times read: "I have been here before, from 2012 to 2014, in 2015, and now again, all because of my work as a human rights defender. Nor am I alone: There are some 4,000 political prisoners in Bahrain, which has the highest prison population per capita in the Middle East.
"This is a country that has subjected its people to imprisonment, torture and even death for daring to desire democracy."
Rajab's next hearing is due on 23 January 2017.