Bahrain's Sheikh Salman Wins Key Fifa Role Despite Human Rights Abuse Claims
Bahrain rights group asks Sepp Blatter to remove controversial royal from post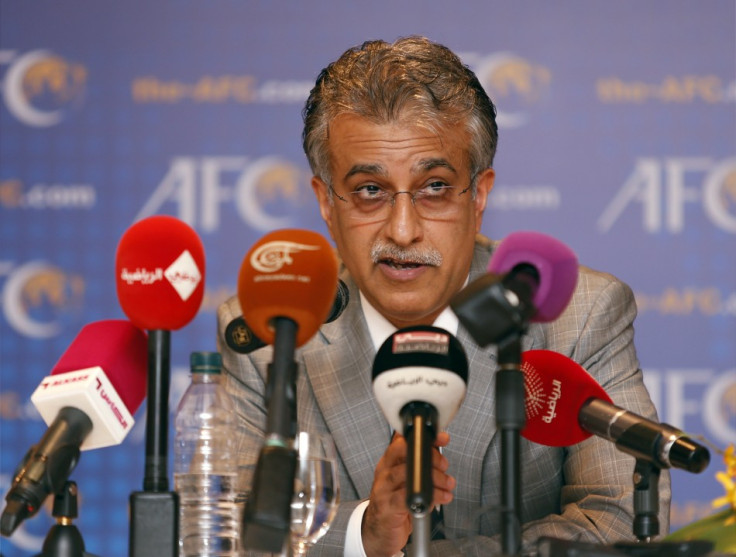 Bahrain's controversial Sheikh Salman bin Ibrahim al-Khalifa has won a key role within football governing body Fifa, despite protests from the Gulf kingdom's human rights groups.
Salman was elected to Fifa's executive committee by the Asian Football Confederation (AFC), which also installed him as its new president after a three-way vote.
The Bahrain royal takes over the AFC presidency from disgraced Qatari Mohamed bin Hammam, who was expelled from soccer by Fifa for alleged corruption.
Salman, who narrowly triumphed in the Fifa vote over Qatar World Cup organising chief Hassan al-Thawadi, said after his dual success: "Now it's my personal duty and moral obligation to lead and reunite our family.
"We have to ensure AFC funds, your funds, are being managed according to good principles."
The Bahrain Centre for Human Rights (BCHR) and the Bahrain Youth Society for Human Rights (BYSHR) had earlier written a letter to Fifa president Sepp Blatter, asking him to reject the candidature of Sheikh Salman for human rights violations.
"Sheikh Salman bin Ebrahim al-Khalifa is involved in human rights violations with the assistance of his office and consultants against players, administrators, referees and clubs who participated in the democracy protests in February 2011," the letter stated.
"We hope that you bear in mind the sublime principles of sport and fair play that respect basic human rights and to distance all violators of human rights from reaching prestigious sport positions in order to embellish their notorious image."
Acting president of the BCHR Maryam al-Khawaja said on Twitter that "when you are from the gulf human rights don't matter".
Ridiculous the amount of international positions and international conferences and events #bahrain regime has gotten past 2 yrs
— Maryam Alkhawaja (@MARYAMALKHAWAJA) May 2, 2013
Sheikh Salman is accused of "eliminating anyone who proves to have participated in the peaceful protests" of 2011 by the BCHR, "whether administrators, referees, and the members of the running committees of the Bahrain Football Association".
He allegedly downgraded some clubs affiliated to the opposition movement to the second-tier football league, and fined them. The Bahraini royal is also accused of complicity with the Bahraini authorities in "summoning athletes, raiding their homes or even or even the training fields and arresting them".
The arrested were "subjected to torture and abuse in prison" by the national security forces, according to the BCHR. The Bahrain Youth Society for Human Rights (BYSHR) also documented several cases where football players, coaches, referees and administrators were subjected to suspension or arrest and torture, and even military trials.
© Copyright IBTimes 2023. All rights reserved.