It is around half an hour until the opening ceremony of the Baku 2015 European Games. So says the countdown clock at the bottom right of the television screen in the corner of the restaurant, Azeri Cuisine, on Caledonian Road, Islington. It is one of the only restaurants in London that sells Azerbaijani food. For some reason, there is not a lot of demand for it.
The Azerbaijani president, Ilham Aliyev, is on this channel, ITV (not that one, the Azeri one). He has a little moustache. He is talking to another man with a little moustache. It is his friend, the Belarusian dictator Alexander Lukashenko.
Aliyev is talking in Azeri, so I cannot understand him. Perhaps he is complimenting his friend's moustache. I hope so. I hope he is not passing comment on the expanding bald patch at the back of Lukashenko's head because he is self-conscious about it.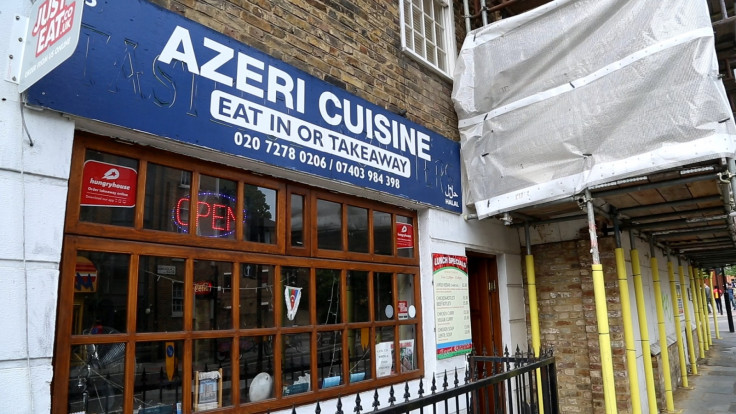 The restaurant is empty but immaculate. Plastic sheets cover the white table cloths to double down on the protection. A large photo of Baku looms over our table and appears again on the other side of the room where a mirror dominates the wall. Fakrhaddin Amiraslanov, 55, owns this place. Ten years ago, it started as an English cafe. Two years ago, he switched to the food of his homeland. He also has a moustache but is not a head of state. Perhaps one day.
Baku 2015 is the first European Games and opened on 12 June. It is expensive. Some estimates put the total cost – of new stadiums, doing up the city, paying international athletes to compete –at $6.5bn (£4.2bn, €5.8bn).
There are reports that public sector workers are having their pay docked to help plug the hole left by falling oil prices. Azerbaijan, a former Soviet Union state, is resource-rich. A crackdown on human rights and the locking up of political prisoners has taken the shine off the Games, which Aliyev wants to use to wash the reputation of his government in the international arena.
The Sport for Rights campaign dubs it "sportswashing". But Aliyev has made his reputation grubbier than ever.
Azerbaijan and the UK
Population: 9.7 million (2014)
Population of UK diaspora: 6,220 Azerbaijan-born residents
Azeri-UK trade: UK exports to Azerbaijan in 2013 totalled £1bn
Sources: CIA, ONS, UKTI
Twenty minutes to go. Aliyev is on the screen again. This time at a fancy dinner. Those present applaud obediently as he takes to the stage. He drones on in Azeri. I do not know what he is saying but it both looks and sounds boring. The audience is patient but obviously bored.
Fakrhaddin is preparing food behind the counter, frying off a couple of egg plants. It smells starchy. It smells good. The restaurant is balmy as the heat from the kitchen clashes with the humid warmth of a summer's day in crowded London.
The takeaway driver sets off to deliver an order. Aliyev appears on the screen again. Then again. And again. Somebody might get the impression he has a grip on the country's media if he is not careful. There he is again. Another dull speech. If the Azeris ever revolt against Aliyev, peak boredom will be their Bastille.
Nabir Amiraslanov, 27, walks in through the door and heads behind the counter. He is the owner's son and has come in to help his dad out. I want to order some food and Nabir talks me through the menu. He is passionate about the food. It is an eclectic menu with a lot of central Asian and eastern European influences. I am eyeing up the meaty Turkish kebab skewers behind the glass.
But in the spirit of Baku 2015, I ask Nabir what he would recommend because I would like to try some traditional Azeri dishes. Without hesitation he recommends pelmeni, which are dumplings with meat and onions served with sour cream, and Georgian khinkali, which he assures me is popular in Azerbaijan. It is also a meat and onion dumplings dish, though served with chili sauce. Nabir and his father set to work.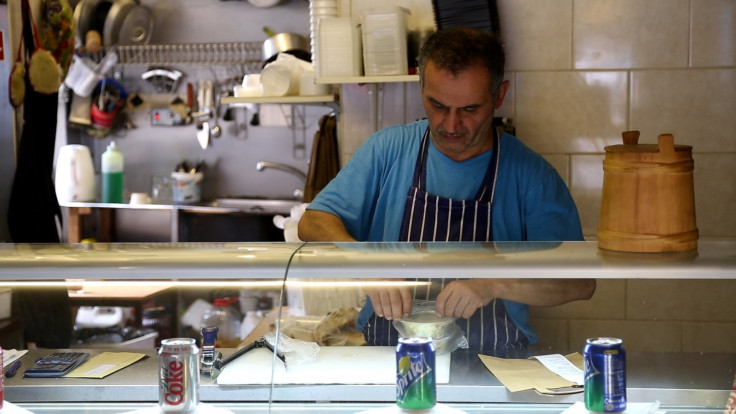 I ask Nabir about Baku 2015. He is excited because he is a keen swimmer. He swims every day. He has ham joints for shoulders and looks like he could lift a double-decker bus, so I do not doubt him. He is also proud because it means the whole world will know about Azerbaijan.
"It is good for us. Our country is going forward," Nabir says. "It is good for our reputation. When I went to Azerbaijan, I really liked it. I went for a month and I was enjoying myself. I was going to restaurants with my friends from childhood. They have shops. They have a lot of things."
Nabir has lived in Britain for a decade, but still loves home. He talks with affection for Baku, of drinking in tea shops with cousins and heading to a village to see grandparents. I ask what he thinks about reports of a crackdown on human rights ahead of Baku 2015.
He says: "I don't know about that, but obviously I would want everybody to be respected. Everybody. If they want to be in a job, if they are elderly then I want them to get paid a pension. Just like in this country."
And it is in this country that he wants to stay.
Nabir continues: "I like the people, I like the area, my father has got a job. My brother has finished university and he is in America now for a camp. My sister finished university. In the future if I get married, I will want my wife to be here in the UK. My other ambition is to finish university. Make more friends, enjoy life, go swimming, come and give my father a hand.
"In this country, my father managed to open a restaurant because it is a good country. And that's why I am going to stay here. People are respected, smiling, you have no worries. London is lovely. I don't get bored. It's very nice."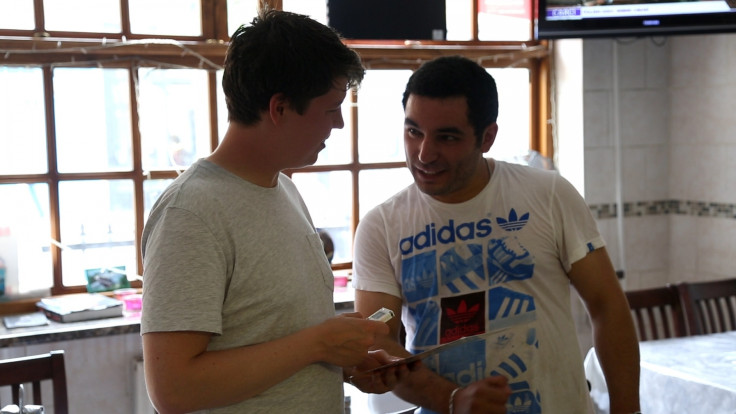 A tall girl in a bowler hat strides into the shop and orders a kebab. She sits at a table and stares at her phone: scrolling, scrolling, scrolling. She is oblivious to the sporting history unfolding 2,900 miles away in Baku and beamed from the corner of the room at the back of her head.
There is one minute left on the countdown clock. It is tense. Three men who all look the same – a full head of grey hair, crinkly face, black suit – warble one after another on the screen. None of them is Aliyev. Presumably an oversight by the broadcaster.
It begins. Fakrhaddin looks up at the screen. A man in a waistcoat appears. He wails erratically in a high pitch and gestures with his hands. It is not immediately clear if this is the opening ceremony or a documentary on OAPs who have night terrors. I am told by Nabir this is traditional Azeri singing. It sounds like a yodel-opera fusion and is called the Azerbaijani mugham.
Drums are banged and there is an outburst of singing and dancing. Fakrhaddin fulfils another Azeri Cuisine order and the delivery driver sets back off. He glances up at the screen for a brief moment while stuffing tubs with chopped cucumber and tomato. Then he cracks back on. It may be Baku 2015, but it is business as usual for the Amiraslanovs.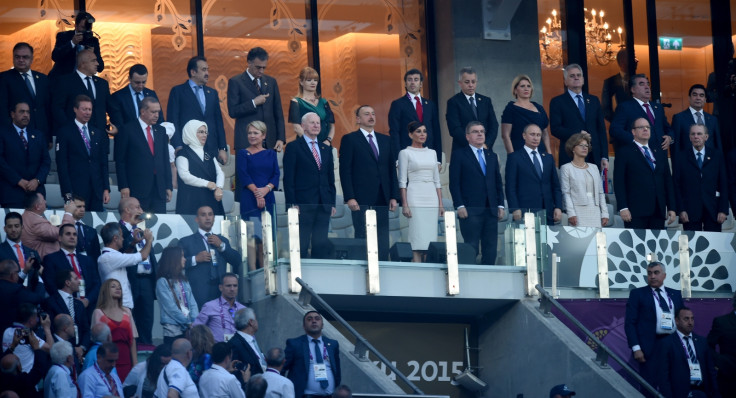 Nabir, who is learning about running the business from his father, says the restaurant is popular with London's homesick Azeri students. He is very proud of the restaurant and asks if I think it is clean. It is immaculate. The decor is a little tired, but the room is spotless.
I ask what the picture of a large castle-like structure is. It is the 12th-century Maiden Tower in Baku, an Unesco world heritage site and a famous landmark in the country. Nabir tells me a British athlete was pictured holding the Union Flag in front of it. Nabir is relentlessly positive and impossibly charming. He talks about Azeri culture – at the moment wresting, a national sport and one of his favourites – as the opening ceremony rolls on in the corner of the restaurant.
There is a parade of people in historical Azeri costumes. The people clear the centre of the stadium. A big blood-red ball is hovering around. It bursts open and red balloons pour out. Baku has opened its heart to the world. Or perhaps it symbolises the moment the country's finance minister was told how much the opening ceremony alone would cost: $100m.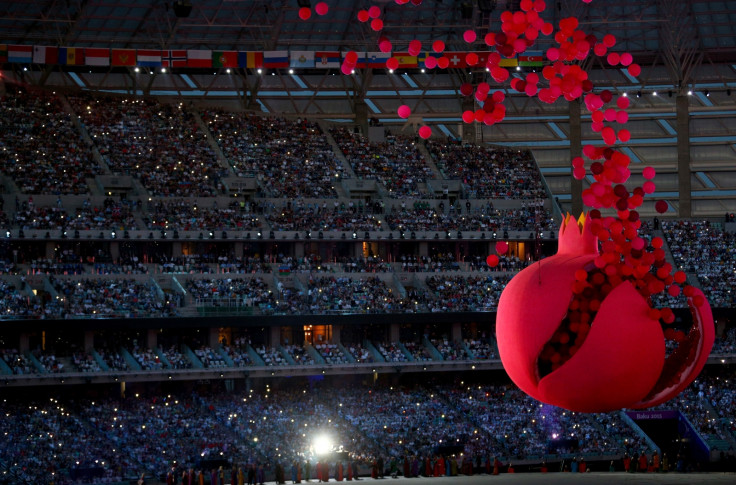 Now the athletes parade, each nation led out by a dolled-up woman wearing what appears to be an upside-down Medieval chastity belt. Most of them are the B teams. Many top-flight athletes have snubbed Baku 2015 to focus on the Rio 2016 Olympic Games instead. They have to pick their events carefully. Besides, there may not even be a 2019 European Games.
The Dutch had said they would do it, but backtracked when they ran the numbers. Too expensive. Most of actual Europe (nobody seems to care that the European Games is being held in central Asia) is rather pre-occupied with economic malaise.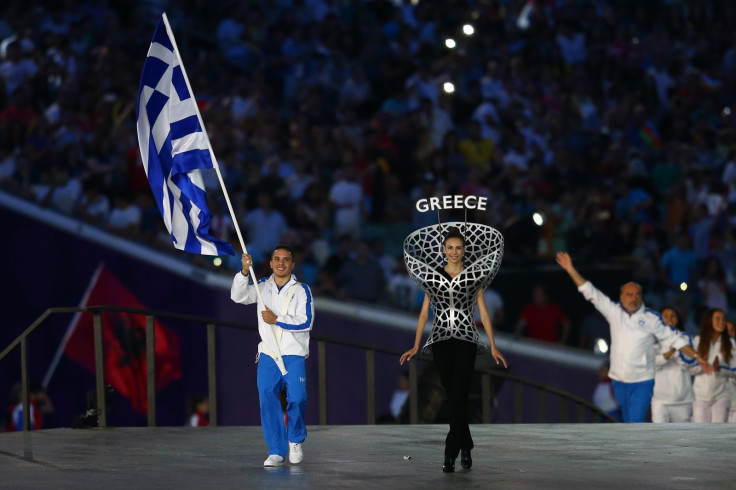 An unidentified but suitably moustachioed man walks in. He turns his head at the screen, grumbles something to himself in Azeri, and walks behind the counter. Nabir asks if we like the Eurovision Song Contest. Azerbaijan won in 2011 with Running Scared by Ell & Nikki, so Baku hosted in 2012. Aliyev had the lavish Baku Crystal Hall built especially for the event. Nabir says he loves Eurovision music and often listens to it because it makes him happy.
"It's her!" declares Nabir at the screen as Team GB walks on. He means Nicola Adams, the gold medal-winning women's boxing Olympian and flag bearer for Team GB at Baku 2015. It turns out she was the one photographed in front of Maiden Tower.
Along with the arrival of Team GB is the arrival of our food, a doughy mountain of pelmeni and Georgian khinkali. The cooking process is simple. The heavy dumplings are stuffed with the meat mix, boiled and then covered with chili flakes before serving. It is as appetising as it sounds. The chili sauces and sour cream help to lubricate the dough, while lashings of salt and pepper from the table give them the lift they desperately need.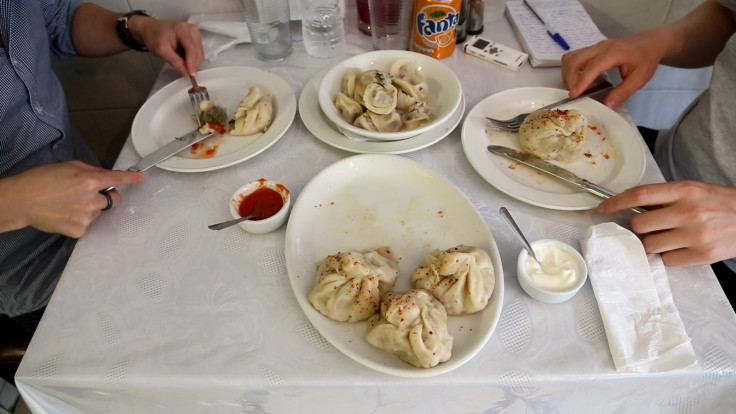 My cameraman, Sho, decides to do a timelapse of the plates at the beginning. This is a death warrant because it means having to finish the neverending pelmeni pot in front of us. Chunk by chunk, we ingest the dumplings. It is challenging. We will not go hungry for having eaten at Azeri Cuisine. I cancel the following week's plans for meals out. Sho has plans to go out for the evening but the dumplings debilitate him.
Nabir reappears in the restaurant with a motorcycle helmet and a box of cherries. We say a friendly farewell and he asks if we are enjoying the food. I give him the thumbs up, though I am not sure my face is as convincing as the gesture. Azeri food is not for me. I will stick to the kebabs in future. But I will say two things in its favour: it is affordable and filling.Nabir waves and leaves.
We eventually finish, breathing heavily, as the athletes continue to parade around the stadium on the screen behind us. Fakrhaddin sits behind the counter with the unidentified man. Both stare silently at the screen. Their faces look tired but the evening starts now. Fakrhaddin yawns. It is only 5.30pm. The restaurant is open until 11pm.
At last, the Azerbaijan athletes enter the arena to an eruption of cheers in Baku. The television speakers fill the silence of the restaurant. Aliyev and his wife, Mehriban Pashayeva, stand up to applaud the athletes, offering occasional regal waves. They smile.
A couple of seats down is Vladimir Putin, the Russian president. He maintains no expression. It is unreadable. Is he bored? Or is he plotting? The truth probably lies somewhere between "I wish I was back in Moscow playing with the dog" and "soon, all this will be mine".
Caledonian Road is buzzing with indifference at Baku 2015. The restaurant offers a refuge of quiet indifference. I go to the toilet and by the time I come back, Lady Gaga is inexplicably on the screen. I double-take. Baku 2015 has escalated. She is playing the piano and singing Imagine.
Imagine there's no countries
It isn't hard to do
Nothing to kill or die for
And no religion too
Imagine all the people
Living life in peace...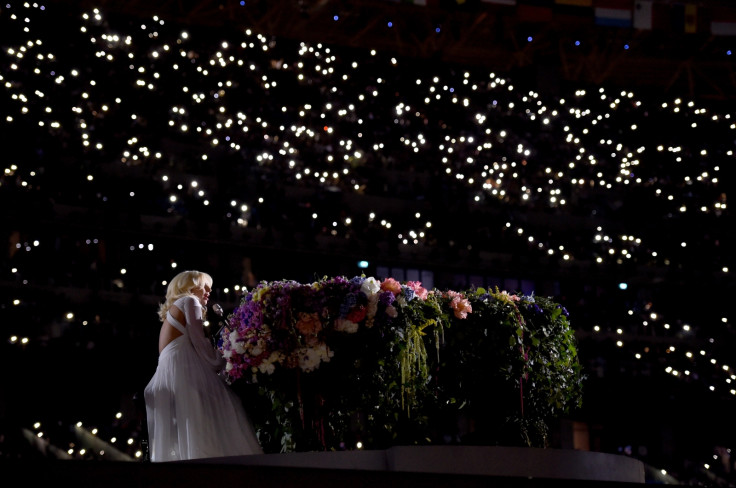 Before I can appreciate the irony, which was hopefully intended by the organisers and lost on Aliyev, there is commotion outside the restaurant. Drums, bells, chanting. Hari Krishnas arrive on Caledonian Road. They stop opposite the restaurant at some sort of Hari Krishna shop.
Fakrhaddin and his unidentified friend spring to life. Eschewing Gaga and the Games, they move to the door with big grins. The Hari Krishnas amuse them. They are football chanting "Hari Hari Hari Hari" at passers-by. A crowd gathers to watch. I sit alone watching Lady Gaga at Baku 2015. There is a metaphor here somewhere.
For all Aliyev's attempts to use Baku 2015 as a distraction from his human rights abuses, few care about the Games anyway. The only people watching closely are the journalists. Even I am only watching out of a sense of obligation. I wish I was outside with Fakrhaddin, his unidentified friend and Sho, watching and laughing at the Hari Krishnas.
Eventually, the excitement dies down and the Hari Krishnas move on. We pay up – £19.90 for a hearty meal, including a can of drink and two bottles of water – and leave.
I am food-woozy on the bus as the leaden weight of meat and dough pins me to the seat. Maybe I am drunk on Azeri food, but I am reflective. Azerbaijan does not need massive vanity events to show itself off to the world. It does not need them to move closer to the West. It needs to do two things.
The first is reform: the protection of rights, the release of political prisoners, the strengthening of democracy. The second is to send more Nabirs and Fakrhaddins out into the world as Azeri ambassadors. Good people. Hard-working people. Passionate Azeris who care about the homeland but contribute to their adopted homes.
The Amiraslanovs represent Azerbaijan and its people better than the Aliyevs ever could. Good luck to them and good luck to Azeri Cuisine. You should visit. But make sure you order a kebab.