Oh dear - Gareth Bale is the world's most expensive player but he doesn't quite look the part yet.
Bale turned up on his first day at Real Madrid's training ground clutching a cheap plastic bag. And like all plastic bags it quickly got blown away.
Bale's sack was a Real drag on his style when the £85m man bumped into Cristiano Ronaldo in the club car park.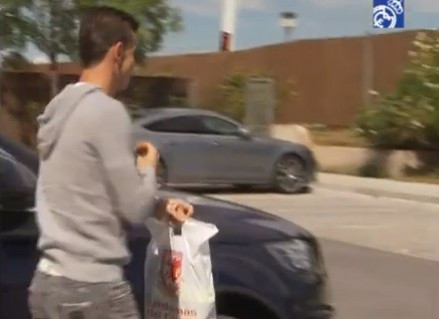 Ronaldo is a preening peacock among footballers but his feathers have been ruffled since being ousted as the planet's most costliest player by the Welshman, 24.
However, the Portugese was obviously not ready to be outdone in the style stakes. Ronaldo came dressed for the occasion and brought with him a Gucci man-bag.
The posh wash pouch with golden zip kicked into touch Bale's own plastic accessory, which was left looking decidedly budget by comparison.
Real Madrid reported that perma-tanned powerhouse Ronaldo had wanted to be the first to greet Bale upon his arrival. Judging by the sartorial effort he made, it was to send out a message of his own.
Ronaldo's classic ensemble of jeans, belt and white shirt - partly unbuttoned to accentuate his own bronzed skin - put Bale in the shade. The man who is now football's most expensive player was left looking pasty in his grey hoodie top and grey jeans.
But Bale has a reputation as a homely young man who is uncomfortable beneath the showbiz spotlight in which Ronaldo revels. As long as his football does the talking for him then he - and Madrid - will be happy.