Steve Ballmer gave an emotional final speech to staff as reports suggest Ford's Alan Mulally is the new favourite to be Microsoft's third CEO.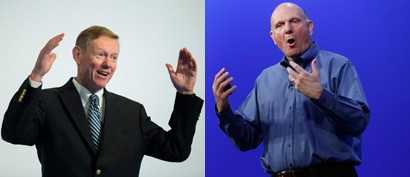 Steve Ballmer walked onto the stage at the Seattle's KeyArena in front of 13,000 cheering Microsoft employees (and up to 25,000 watching around the world via webcast) to give his farewell speech at his last staff meeting as the company's CEO.
Ballmer, known for his energetic public speeches, walked onto stage to the strains of "Can't Hold Us" by Seattle rap/producer duo Macklemore and Ryan Lewis and departed to a standing ovation and the strains of "(I've Had) The Time of My Life."
Ballmer announced in August that he would be stepping down as CEO of the technology giant within 12 months, or just as soon as a replacement had been found. While Ballmer said the decision was his, it is understood he was coming under increasing pressure from investors who are worried about the company's direction and specifically the failure to make an impact in the mobile market where Apple, Google and Samsung are dominating.
"We have unbelievable potential in front of us, we have an unbelievable destiny," a visibly moved Ballmer said during his farwell speech, reusing a quote from the first ever Microsoft employee meeting in 1983. "Only our company and a handful of others are poised to write the future. We're going to think big, we're going to bet big."
Ballmer joined the company in 1980 and became only its second CEO in 2000 taking over from co-founder Bill Gates.
Favourite
Following Ballmer's announcement the initial favourite to replace him as only Microsoft's third CEO was Stephen Elop, especially after he helped negotiate the purchase of Nokia's mobile devices business for £4.6bn.
However in the last week Elop's stock has dipped following controversy over his $25 million payoff from Nokia. There have been calls for Elop to forgo at least some of that figure from people within Nokia, but the divisive figure said he cannot afford a reduction because of the cost of his divorce.
According to a report from AllThingsD, sources close to the selection process have said that Ford CEO Alan Mulally has now jumped to the top of the list of potential replacements for Ballmer, having become more amenable to the possible move after declaring last month that he continued to be "focused on serving Ford."
Mulally, who is seen as a turnaround specialist and has been a trusted adviser to Ballmer in the past, has a home in Seattle from his time as CEO of Boeing Commercial Airplanes and has long-wanted to return there, according to sources.
Candidates
Elop remains a potential candidate for the top job with former Skype CEO Tony Bates also in the mix. The sources speaking to AllThingsD said that former Microsoft executive and current CEO of big data company Pivotal, Paul Maritz, has also been contacted.
Microsoft established a special committee of board members to find a new CEO and global executive recruitment specialists Heidrick & Struggle have been brought in to vet potential candidates.
However it is Bill Gates, who is chairing the special committee, who is seen as king-maker and will make the ultimate decision about who will replace Ballmer and lead the company Gates founded back in 1976.