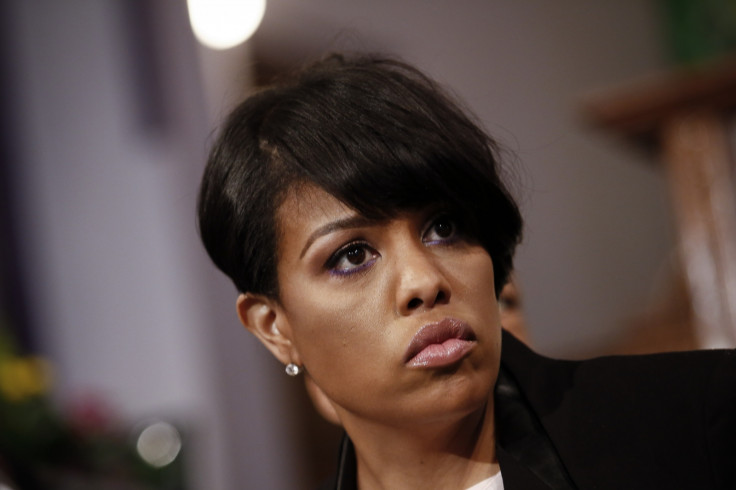 Baltimore mayor Stephanie Rawlings-Blake has been thrust into the international media's centre stage after violent riots erupted in the city in the wake of the death of young black man Freddie Gray in police custody.
No stranger to the limelight, she has also earned plaudits for her acting skills, as the first mayor to appear in hit musical Chicago in a production earlier this year, and was named one of the 10 Best Dressed Mayors by Vanity Fair in 2014.
However, it is now her performance in political office that is under scrutiny, as she battles to prevent a repeat of violent rioting that left 15 police officers injured, as well as two civilians in shootings.
The 45-year-old Democrat is only the second woman in the history of the city to serve in the office, and was appointed after an embezzlement scandal forced the resignation of predecessor Sheila Dixon in 2010.
The former lawyer and city council chairwoman ran on a platform to reduce crime and improve education, and was elected to office with a landslide 82 per cent of the vote in 2011.
In a city which has become synonymous with urban decay after featuring in acclaimed crime drama The Wire, Rawlings-Blake's ambitious renewal scheme for a city hit by half a century of population decline earned her widespread plaudits, and the delivering authorities a series of awards.
Only six weeks ago, in her annual State of the City address, Rawlings-Blake hailed City Hall's achievements, and claimed that the city was winning the battle against crime.
"Citizen complaints alleging excessive force are down 46%. Police discourtesy complaints are down 53%. Notices of lawsuits alleging police misconduct are down dramatically over the past three years," she told councillors.
"We know the overwhelming majority of our officers treat our residents with dignity, respect, and courtesy. They wear the badge with honour and demonstrate reverence for the position they hold in our community. However, it only takes a few bad actors to damage the reputation of an entire city."
Her words have proved prophetic, with 200 arrested, 144 vehicles and 15 buildings torched in last night's rioting, after a protest attended by 10,000 ended largely peacefully.
Rawlings-Blake has come under attack over the city's response to simmering community tensions in the wake of Gray's death.
Comments over the weekend of attempting to maintain a "balancing act" between protecting the city while also giving "those who wish to destroy space to do that as well" were widely condemned as condoning violence.
The mayor took to Facebook to justify the comments.
"Taken in context, I explained that, in giving peaceful demonstrators room to share their message, unfortunately, those who were seeking to incite violence also had space to operate. And we worked very hard to put ourselves in the best position to de-escalate those instances," she wrote.
Last night, she issued a week-long 10pm to 5am curfew and struck a more uncompromising tone.
"It is idiotic to think that by destroying your city you're going to make life better for anybody," she said at a press conference. "Too many people have spent generations building up this city for it to be destroyed by thugs who, in a very senseless way, are trying to tear down what so many have fought for."
With 500 National Guard officers patrolling the streets of Baltimore in the wake of the unrest and tensions high, time will tell if Rawlings-Blake's response to unfolding events will leave her already high reputation enhanced or damaged.