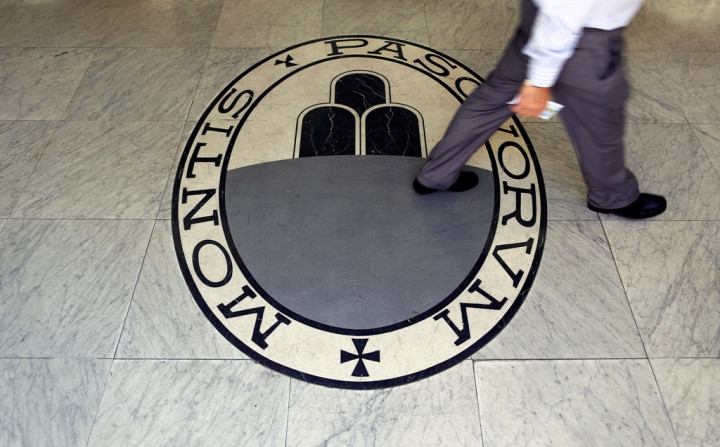 Shares in Monte dei Paschi di Siena reversed early losses in Milan trade, a day after the Italian lender said it could plug a €2.1bn capital hole, exposed by a pan-European health check of banks, entirely through a capital increase.
Shares in Italy's third biggest lender were trading 6.58% higher at 1011 CEST on news that it has hired UBS and Citigroup to assess strategic options after it failed the European Central Bank's (ECB) stress tests, designed to gauge the strength of the eurozone's financial system.
The bank must submit a capital-boosting plan to the ECB by 10 November.
Monte Paschi said in a statement: "Banca Monte dei Paschi di Siena ("BMPS") informs that discussions with the competent Authorities for the definition of the Capital Plan to cover the shortfall resulting from the Comprehensive Assessment Stress Test Adverse Scenario are ongoing.
"Currently, the remedial actions being evaluated envisage the coverage of the entire capital shortfall through a capital increase, while the conversion of NFI into ordinary shares or other potential measures involving the intervention of the Ministry of the Economy and Finance in the form of new State aid are not being considered by BMPS, as also declared on several occasions by the Ministry itself."
"The Capital Plan also envisages other non-dilutive and non interest bearing measures for the Bank – including disposals of selected financial assets – in order to further improve on the Bank's capital position, which has already passed the AQR exercise
"...It is expected that the Board of Directors will meet on Wednesday 5 November to discuss and approve the Capital Plan with the purpose to disclose its content in advance of the 10 November deadline."
MPS's stock has dropped some 35% since the result of the ECB stress tests were published a week ago.
A capital increase will be the fourth rights issue for the world's oldest bank, which raised €5bn in June to bolster its balance sheet and help pay back state aid, since 2008.