Thanksgiving, the autumnal festival when Americans symbolically celebrate the bounty of the harvest, paves the way for consumers to thank corporate capitalism for their own meagre share of the pie - Black Friday.
One-third of American families do all of their Christmas shopping on this day, queuing up for hours, scrambling for 20% discount deals on mass-produced goods made in China, occasionally leading to violence.
For some people that share of the pie is now so paltry they see little choice but to reject the crumbs thrown to them from on high. Instead, it's a day of battle: corporate, white, elite, 1% America vs. the rest.
Black Friday Indeed
On the heels of the Occupy movement, #BoycottblackFriday, #handsupdontspend and #notonedime are the Twitter calls to arms of a portion of the American population that feels disenfranchised and let down by a system that enabled a white police officer to walk free after shooting an unarmed black teenager.
Economic power - or what little they have in a country where unemployment amongst black people is more than twice that of whites - seems to be the last device available where many now feel that shooting a black person is practically legal. Black Friday, under these conditions, takes on a whole new meaning. As one tweet heralded: "No deal is worth more than my life."
Elsewhere on Protest Street, #Walmartstrikers are urging people to forego Black Friday shopping at the company that is asking its customers for donations to enable their employees to eat Thanksgiving dinner.
What do the strikers want? Simply enough income to cover their basic needs which would ideally include the ability to celebrate Thanksgiving without resorting to charity.
Joining 1,600 stores nationwide, the biggest protest against Walmart is already taking place in Ferguson, Missouri, with protesters recognising the inherent connection between the failure to bring Darren Wilson before a Grand Jury, and the corporate elite who seem intent on keeping them poor, hungry and oppressed. Black people, as it happens, also make up 20% of Walmart's workforce, but only 12.5% of the American population.
Walmart, though it has since resigned, has helped to fund ALEC, the American Legislative Exchange Council, an organisation that promoted the infamous "Stand your Ground Law" - the right of Americans in 30 states to shoot someone who annoys them and claim self defence after the fact.
Buy Nothing Day and Black Friday protest
Black Friday has come to symbolise the vagaries of hyper-consumerism and unethical capitalism. Its counter proposition, "Buy Nothing Day" highlights the environmental and ethical consequences of consumerism, noting that "20% of the world's population are consuming 80% of the Earth's resources, causing a disproportionate level of environmental damage, and an unfair distribution of wealth." They call on activists to cut up their credit cards and participate in Zombie walks.
Meanwhile, as Black Friday has infected other parts of the world, so too should protest follow. The UK seems to have embraced Black Friday as a retail event, vestiges of Thanksgiving links cast aside. Here, Amazon is offering lightning deals every 10 minutes. Maybe those who are on zero hours contracts can use the sale to highlight their plight: 10 minute contracts, anyone?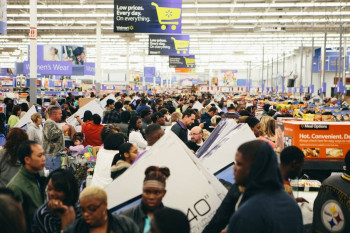 In Mexico, Black Friday takes on the moniker "El Buen Fin" - or good weekend. It's paradoxically tied to Revolution Day, rather than Thanksgiving Day, commemorating Mexico's 1910 revolt against a ruling elite. But instead of Black Friday style discounts, already poor consumers are offered opportunities to secure debt.
People already use Walmex, the Mexican Walmart parking lots, as a space to protest against the alleged abduction of 43 college students in September, forcing Walmex to shut its doors across several branches.
And while there has yet to be a mass protest against El Buen Fin's credit-pushing tactics, one should anticipate a large-scale #buenfinmaldueda# (Good weekend bad debt) campaign sometime soon. This would be a far more fitting tag for commemorating the Revolution than Black Friday's consumptive push.
There is some irony in the fact that Thanksgiving was a humble lift-up where native Americans kindly helped the pilgrims survive the winter by showing them how to cook the local food: now, instead of remaining steadfastly humble, that dominant immigrant seems to use Thanksgiving's Black Friday as a cruel slap in the face.
Long may the protests continue.