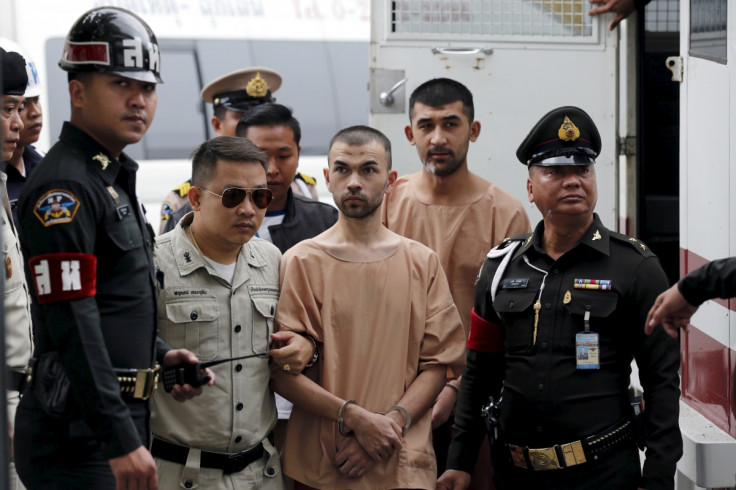 Lawyers for a man accused of a deadly bombing at a Bangkok landmark last year claimed he was tortured to confess to the crime, as the suspect and an alleged accomplice appeared in court and pleaded not guilty. Bilal Mohammad, 31, and Mieraili Yusufu, 27, were held weeks after a blast left 22 people dead at the Erawan Shrine on 17 August.
The pair, both Chinese nationals from the Uighur Muslim minority, are facing a series of charges including conspiracy to explode bombs and commit premeditated murder. Bilal is also accused of entering Thailand illegally as he was carrying a fake Turkish passport in the name of Adem Karadag when police arrested him.
The pair maintained their innocence on 16 February. Speaking after the hearing Bilal's lawyer Chuchart Kanpai claimed his client confessed under torture that he was the man seen planting an explosive device on security camera footage.
"He was tortured by officials. He didn't know if they were soldiers or police because they were non-uniformed," Chuchart told AP. "Back then, he confessed so that he wouldn't be tortured again. He was just saying it." The alleged mistreatment included the pouring of cold water into his nose and threats to send him back to China.
Bilal stated in court he fears Chinese authorities and refused to give his exact address for that reason. He and his co-accused, Mieraili are from Xinjiang, a north-western region of China, where Uighurs, a Turkic-speaking Muslim ethnic group related to Turks, have been leading a separatist struggle that Beijing has repressed with force.
Investigators said the bombing could have been a retaliatory action from a human smuggling gang targeted by authorities. However experts have suggested Uighur militants could have also been responsible. They had reasons to be angry with the Thai government, which at the time of the blast had recently handed back to Beijing more than 100 Uighur migrants who had sought asylum in Thailand.
Although The Erawan Shrine is a Hindu holy site, it is also popular with Buddhist devotees and Chinese tourists who were among the victims. Bilal and Mieraili are not the only suspects in the case as police are still hunting for more than a dozen people allegedly involved in the plot.