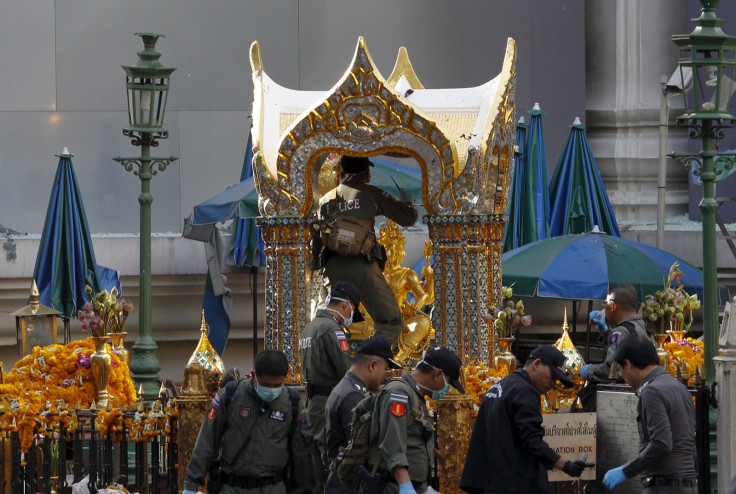 Thailand's police say they found and deactivated an explosive device in Bangkok on 24 August. Police officials said they found the device after receiving reports of a bomb in the Sukhumvit district of the capital.
"I went to check and found a wide bomb. It was left in the house of a construction worker," said Kamthorn Aucharoen, commander of the police's explosive team, according to Reuters. He added that the device has been deactivated and is to be dismantled.
The investigation into the bombing on 17 August that killed 20 people in the capital earlier this month was showing little progress. Earlier, national police chief Somyot Poompanmoung admitted it was possible that the prime suspect in the attack at the revered Erawan Shrine has already left the country.
Somyot said the manhunt was hampered by faulty security cameras that failed to record the suspect's escape route and complained Thai police lacked the sort of technology seen in crime TV series CSI. "Sometimes there are 20 cameras on the street but only five work. We have to waste time putting the dots together," Somyot told a press conference.
"The footage jumps around from one camera to another, and for the missing parts police have to use their imagination. Have you seen CSI? We don't have that," he said, referring to software used in the crime series to clear blurred CCTV images, adding Thailand has asked other countries for cooperation.
No one has claimed responsibility for the bombing but authorities said the suspect is part of a wider "network" of 10 people. Fingers have been pointed at Uighur militants from north-western china, and Islamists from Indonesia, but no conclusive evidence has so far emerged.
Thai police asked Interpol for help in finding Thailand's most-wanted man, described as a "Caucasian, Arab or mixed race", aged 20 to 30 and about 170cm tall, depicted in a detailed sketch released last week.
Somyot however said police have no clue on the man's whereabouts. "You want the truth? We don't know if the suspect is still in Thailand but I have to assume he still is because we've got no information that he left," he said.