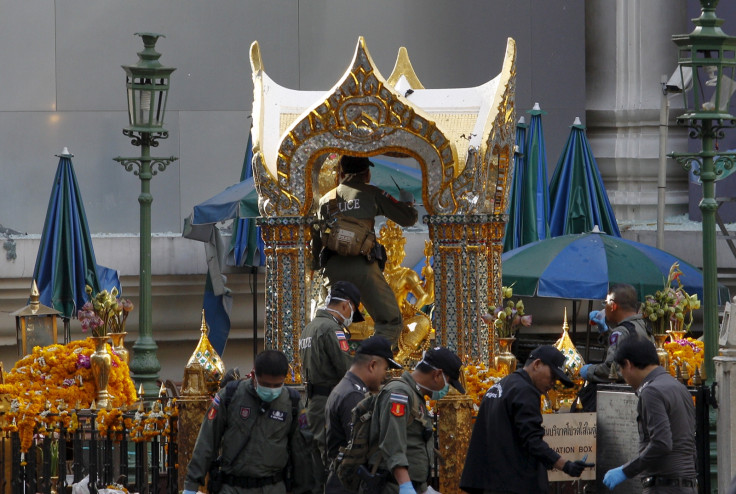 Thai police are questioning two men caught on a CCTV camera before the deadly blast at Bangkok's Erawan Shrine who handed themselves in after being designated "persons of interests". The pair, in red and white T-shirts, were seen in the security camera video rising from a bench just before the main suspect, described as a foreigner wearing a yellow shirt, sat down and slid off his bag at the shrine.
A few minutes afterwards, a bomb went off killing 22 people and injuring 100 others. The two men insisted they are tour guides, according to authorities, but some suggested they were covering the main suspect as he was planting the bomb.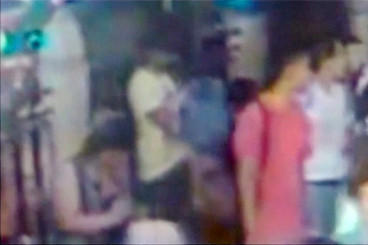 In the video, the red-shirted man is seen giving up his seat on the bench to the man in yellow. The three left the area within a few seconds of one another. "The red shirt stands up for him," General Prawut Thawonsiri, police spokesman, told The Times. "It's like he's reserving [the bench] for him."
No one has claimed responsibility for the bombing but authorities said the suspect is part of a wider "network" of 10 people. Authorities played down suggestions that an international terror group was behind the bomb attack.
The new development will trigger speculations that Muslim separatists involved in an insurgency in southern Thailand or anti-government activists were involved in the attack.
Thai police asked Interpol for help in finding Thailand's most-wanted man, described as a "Caucasian, Arab or mixed race", aged 20 to 30 and about 170cm tall. Police sent Interpol an image of a suspect caught on video, but checks at airports and other exit points found that one one matching the description left the country since the attack. A ฿1m (£17,869) reward has been offered to anyone who can give police information leading to his arrest.