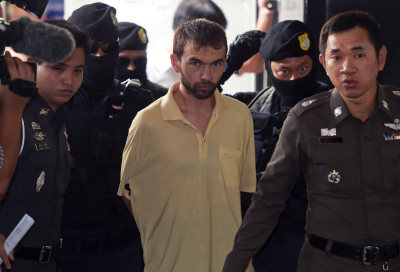 Thai detectives investigating a deadly bombing at a Bangkok shrine have moved their focus abroad, as it appears two main suspects have fled the country. Police have sent a team to neighbouring Malaysia, where they believe the bomber sought shelter after the attack that killed 20 people, local media reported.
Police sources told the Bangkok Post they were working closely with their Malaysian counterparts to apprehend the suspect, believed to be the man wearing a yellow shirt who was filmed by a security camera placing a bag full of explosives near the Erawan Shrine in the Thai capital on 17 August.
While the bomber might have fled south, investigators believe the bombing mastermind headed the other way. The suspect, identified as Abudureheman Abudusataer, 27, a Chinese national from the Xinjiang region, flew to Bangladesh on the eve of the explosion and from there on to Beijing, according to Bangladeshi police.
"We got a message from Thai police that Bangkok blast suspect Abudureheman Abdusataer, also known as Izan, came to Bangladesh. He was travelling on a Chinese passport," national police spokesman Nazrul Islam told AFP. "We verified the message and found that he came to Dhaka on the Biman Bangladesh Airlines flight No. BG0089 and flew out to Beijing on August 30 on a Jet Airways flight."
In recent weeks, Thai police arrested another two men who allegedly helped prepare and deliver the explosive device. The first, named by local media as Adem Karadag, was held during a raid at a flat in eastern suburb where explosive materials and a stash of passports were found. He is believed to be a Turkish national.
His arrest was followed by that of Yusufu Mierili, a 25-year-old foreign national that local media also said is from the restive Xinjiang. He has admitted to handing a backpack filled with explosives to the bomber.
No one has claimed responsibility for the attack, sparking a wide range of theories over possible motives for it, but the investigation seems to point the finger at Uighur militants. Uighurs are a Turkic-speaking Muslim ethnic group related to Turks who have been leading a separatist struggle in Xinjiang. They have reasons to be angered at the Thai government, which recently handed back to Beijing more than 100 Uighur migrants who had sought asylum in Thailand.