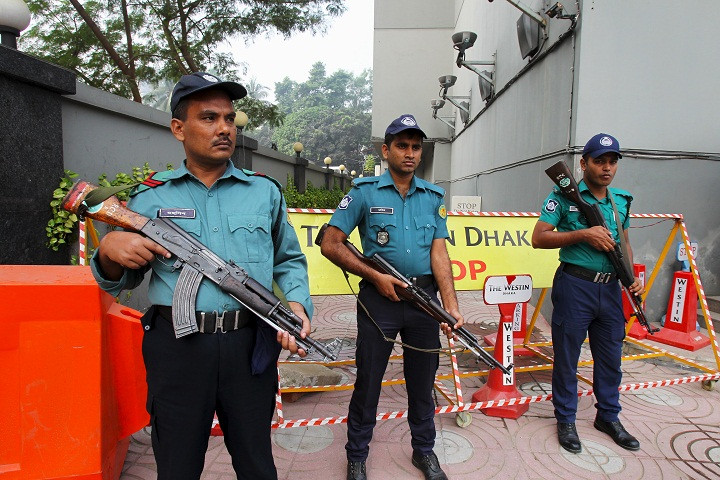 At least three people, including a police officer, have been killed in a blast in Bangladesh. The attack took place near the entrance to what is believed to be the country's largest Eid congregation.
So far, 12 people are reported to have been injured in the explosion at Sholakia Eidgah in Kishoreganj, about 140 km (90 miles) northwest of Dhaka. More than 300,000 people are reported to be taking part in the Eid celebration, which marks the end of the month-long fasting period of Ramadan.
There are conflicting reports about the exact number of casualties. Local media reports say the attackers were holed up in a school.
Dhaka Tribune reported that a homemade crude bomb was hurled at the policemen by a suspected Islamist at around 9.30 am local time on Thursday (7 July). A school is also located in the vicinity of the blast site, less than a mile away from the prayer ground.
However, state Information Minister Hasanul Haq Inu said the attack was a political one aimed at police officials guarding the Eid gathering, and added that it was not related to any Islamic agenda, News18 reported.
District council administrator Zillur Rahman confirmed to Reuters that two suspected attackers have been killed in a gun battle with the police. The entire area has been cordoned off.
The authorities are yet to ascertain how many attackers were involved, but Rahman said they are believed to be in their early twenties.
"We are still checking for other miscreants but after this incident, prayers were held peacefully and we have asked everyone to go home," he added.
Condemning the attacks, Bangladesh Prime Minister Sheikh Hasina said: "We will not allow any kind of terror activities on our soil. They are the enemy of Islam who committed these acts."
The latest incident has come just a week after six gunmen attacked a cafe in Dhaka and killed at least 20 civilians and two policemen on 1 July.
The country has been put on high alert during the Eid festival after last week's terrorist attack. The Islamic State (Isis) had warned Bangladesh that it would carry out more attacks. However, the government has been persistently denying Islamic militants' presence in the country.