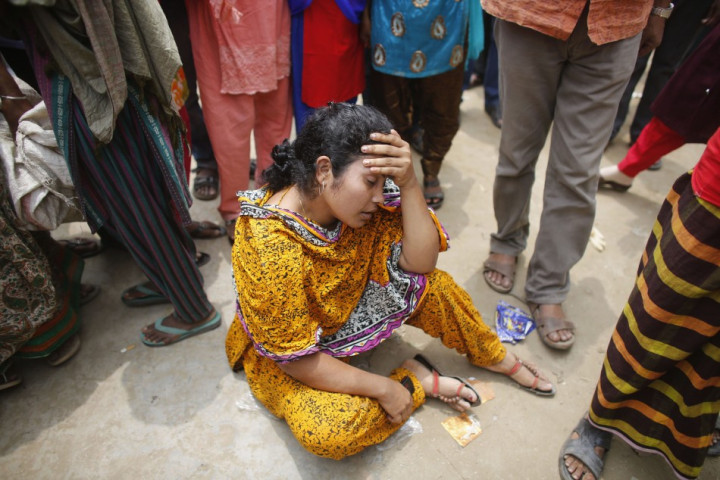 Dhaka officials no longer hold out hopes of finding any more survivors as the rescue measures in the Bangladesh building collapse enter the sixth day.
Local reports suggest the death toll has reached nearly 400 as grisly details emerge from the scene.
A fire had broken out on Sunday disrupting the rescue efforts for more than 10 hours. However, three survivors were rescued on the same day.
The fire broke out while rescuers were trying to free a woman from the rubble. Officials said the blaze was caused by sparks from one of the rescue equipments.
It is suspected that the woman has been burnt to death. "We are not sure whether the woman is dead or not, but she could not be rescued as a fire broke out when the rescuers tried to pull her out by cutting iron rods," said Shahinul Islam, spokesperson of the army unit spearheading the rescue operation.
"The chances of finding people alive are dimming, so we have to step up our rescue operation to save any valuable life we can," said Major General Chowdary Hassan Sohrawardi, chief of the rescue measures.
Bangladesh officials have deployed heavy machineries in breaking the rubbles in search of more dead bodies. Nearly 1100 people have been reported missing.
Meanwhile, the owner of the eight-storey building, Mohammed Sohel Rana, has been arrested by Dhaka officials near the Indian border.
"He went into hiding in different areas and changed locations regularly. Besides Dhaka, he stayed in two or three districts outside of the city. He reached the border with India. There was a possibility that he could have managed to escape into India within a very short space of time. Based on a tip-off, we hurriedly flew to Jessore in a helicopter. He was arrested at the checkpoint at Benapole in Jessore," said Mokhlesur Rahman, the chief of the police team who tracked Rana.
Rana is a local politician belonging to the ruling Awami League party.